Golden State Warriors falling behind to Western Conference rivals
The Golden State Warriors have a steep mountain to climb before they can confidently say they are in contention for a championship.
The NBA has made a drastic shift in recent years. Gone are the days of superteams as the talent has been spread across the league in a way that gives multiple squads a shot at winning the title. The Golden State Warriors have found themselves just barely outside of being clear favorites to compete for a championship.
Stephen Curry is ready to return and though Klay Thompson is gone for the season – the additions of Andrew Wiggins, Kelly Oubre Jr. and James Wiseman will be enough to keep Curry and Draymond Green in the playoff picture.
However, this team is missing some of the juice it had in years past. Not only did they suffer the blow of losing Thompson, but the absences of role players like Andre Iguodala and Shaun Livingston will be noticeable in the playoffs.
The Warriors' only hope of filling out this roster is free agency – where they are lucky enough to have options like the MLE and DPE that help them open enough cap space to sign some additional talent.
Sadly, other teams are moving faster than them this offseason. The Portland Trail Blazers have acquired some stark talent such as Robert Covington and Derrick Jones Jr. while also re-signing Rodney Hood. This made a playoff team even stronger than they were before.
Meanwhile, the Los Angeles Lakers acquired the reigning Sixth Man of the Year in Montrezl Harrell and the runner up for the award in Dennis Schroeder. This type of talent being added to a title team is a scary thought.
The New Orleans Pelicans brought in Steven Adams, a guy who addresses their need for a center. Also, the Phoenix Suns traded for Chris Paul, creating a dynamic duo in the backcourt next to Devin Booker. These are two more teams the Dubs will have to beat for playoff position next season.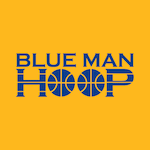 Want your voice heard? Join the Blue Man Hoop team!
Write for us!
The Dubs still have a chance to battle – but their road to another title is becoming increasingly difficult by the moment.