Golden State Warriors can end up with 2 NBA Draft Lottery picks
It's unusual for a dynasty team to select in the NBA Draft Lottery, but the Golden State Warriors could potentially land three picks in two seasons if things play out the right way.
The Warriors have been heavily impacted by injuries in recent years. While losing Klay Thompson and Stephen Curry last season hurt their chance of winning games, it did come with some benefits in the form of the No. 2 overall NBA Draft pick and a chance to draft James Wiseman.
Now, with Thompson sidelined again and the Warriors on the outer ring of the playoff picture, it's entirely possible they secure another lottery pick this year. Add in the likelihood of Minnesota's first round pick transferring to them in the top five and this could get interesting.
The Golden State Warriors could end the season with multiple NBA Draft Lottery picks if a few different things go their way.
First, we have to discuss the pros and cons of missing the playoffs this year. It would be a shame to waste a season of Curry's prime by being in the lottery again – and it would be even more detrimental to young players like Andrew Wiggins, Kelly Oubre and Wiseman to not get any experience under their belts.
However, we have to be realistic in stating that the Dubs don't have a very high ceiling. Even if Curry goes full superhero mode, it's hard to see this team ending the year with a championship trophy. This begs the question, should they cut their losses and accept a lottery pick?
I think this is a pretty good option. The 2021 NBA Draft is set to have multiple quality prospects fall deep into the lottery and with flattened odds anything is possible. Talented players like Duke's versatile forward, Jalen Johnson, could fall into the Warriors' hands. In contrast, if the Warriors' pick falls past 20, they will transfer their rights to the Oklahoma City Thunder as their deal for Oubre constitutes.
Meanwhile, there remains a 50 percent chance the Warriors secure the fourth or fifth pick from Minnesota. So long as it doesn't land in the top-three, the Wolves will cough up their pick to the Dubs.
This gives the Warriors two chances to draft franchise cornerstones this year. Plugging them next to Wiseman and seeing how far this hybrid team could go with stars like Curry, Klay Thompson and Draymond Green would be a load of fun.
Of course, there is the problem of not having much playoff experience or experience in general with such a young nucleus. This would be the price to pay for the Warriors' current stars who may not see the rewards of putting all of their chips into the draft until they are retired.
However, acquiring multiple draft picks also opens the door to trade possibilities. The front office could just as easily flip these picks for proven talent that can help the Warriors capitalize on their championship window before it's too late.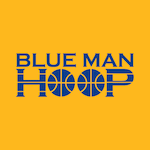 Want your voice heard? Join the Blue Man Hoop team!
Write for us!
Either way you put it, landing two lottery picks seems to be the best route for this Dubs team. But, good luck convincing this team that missing the playoffs is the optimal goal. I wouldn't be surprised at all to see the Warriors continue to climb up the standings and secure a playoff berth.