Golden State Warriors should be thankful they missed NBA Playoffs
The 2021 NBA Playoffs have felt more like watching a game of minesweeper than actual basketball (Do people still remember that game or am I officially getting old?). It seems like a new star player is struck with an injury every single day and the Golden State Warriors should be thankful they missed out on the fun.
The Golden State Warriors have to be feeling good they are at home rather than suffering further setbacks in the 2021 NBA Playoffs.
The latest knee sprain to Kawhi Leonard marks just one of the numerous injuries that have occurred throughout the postseason. Truthfully, you'd be hard-pressed to find a single team in the playoffs that hasn't suffered a significant setback. To go down the list, here are some of the players who have dealt with some form of injury during the postseason:
Kawhi Leonard (Knee)
Anthony Davis (Hamstring)
LeBron James (Ankle)
Chris Paul (Shoulder + COVID)
James Harden (Hamstring)
Kyrie Irving (Hamstring)
Mike Conley (Hamstring)
Donovan Mitchell (Ankle)
Joel Embiid (Knee)
Luka Doncic (Shoulder)
Notice a trend here? It likely isn't a coincidence that following the shortest offseason in NBA history, players who are high in usage have been dealing with sprains and hamstring injuries all year long.
Honestly, it really, really sucks that the NBA rushed this season. It's understandable that everyone wanted to get back to normal after a strange year. And, with the looming Summer Olympics, it was in everyone's best interest to get this season wrapped up quickly in an attempt to avoid messing with any future schedules. It was a mutual decision between the league and the players, but this has taken a turn for the worst.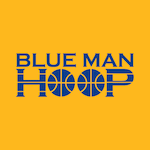 Want your voice heard? Join the Blue Man Hoop team!
Write for us!
And yet, the Warriors are sitting at home, watching all of this happen. While it is unclear if the Dubs would have had any shot of advancing past the first round, they should be feeling better safe than sorry that they ducked this injury-plagued postseason and instead are resting up for next season.