Golden State Warriors: Steph Curry and Kevin Durant's relationship is base for dynasty
Golden State Warriors stars Stephen Curry and Kevin Durant have a unique bond in which they can thrive despite being pitted against each other.
Golden State Warriors guard Stephen Curry roared, putting the worst shooting game of his career and his dwindling Finals MVP chances behind him so he can celebrate someone else's greatness.
For the second year in a row, Kevin Durant dug a dagger through the city of Cleveland's heart from almost the exact same spot on the left wing–only deeper this time. And, once again, Durant's heroics put Golden State 48 minutes away from securing a championship.
Instead of moping around or, even worse, forcing ill-advised shots during a 3/16 shooting night, Curry let Durant take over. He accepted the hard hedges, traps, and double teams that the Cleveland Cavaliers threw it at him and deferred to his forward, who was on fire.
And when Durant sealed the deal in a way that Curry couldn't that night, potentially stealing the elusive Finals MVP trophy away from him in the process, no. 30 chose to become his teammate's biggest fan instead of letting his ego get in the way.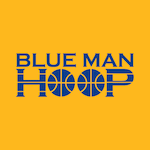 Want your voice heard? Join the Blue Man Hoop team!
Write for us!
After the game, Durant deflected questions about the monstrous shot in his greatest postseason performance ever, instead choosing to praise Curry. Over and over again, he insisted that Curry's lone three–a fast break attempt with a little over two minutes left that put the Warriors up by four–was the biggest shot of the game.
Durant made it a point to make sure Curry–the guy who carried them to the Finals, the one who makes the Golden State machine work–was appreciated, even at his lowest. He could have made the moment about him and no one would have thought it was unreasonable to do so. After essentially securing the Warriors' second championship in a row with a 30+ foot bomb, he said it was Curry who lifted them over the top.
Championships are extremely difficult to win. Dynasties–though not uncommon in the NBA–are, obviously, even harder to achieve. There are plenty of reasons why title teams can't run it back and dominate the better part of a decade, but among the top is ego.
Every great player has an ego and sometimes having multiple superstars with egos can get in the way of doing something special as a unit. It's why Shaquille O'Neal and Kobe Bryant separated. It's why Kyrie Irving, two years removed from a championship, gave up a guaranteed trip to the NBA Finals alongside LeBron James for the fourth consecutive year.
Curry and Durant aren't just co-existing; they are thriving together…
What Curry and Durant have looks to be different than anything we've seen. Two former MVPs in their primes, each of whom genuinely believes that he is the greatest basketball player in the world. Curry sacrificed his team and, in the middle of one of the most incredible runs we've ever seen, the chance to win individual awards. Durant took a blow to his legacy in an effort to win and carve out a different path for himself.
One of these guys is going to win Finals MVP and the one who doesn't is going to be the first one to congratulate the winner. While fans–including myself–care about these individual awards and accolades, they don't. They're just trying to hoist the Larry O'Brien trophy together for as many years in a row as they can.
These two dynamic stars have a relationship that can serve as the base for a dynasty. This will be Golden State's third ring in four years, the second in a row with Durant, and they could keep piling them up for the next few seasons as long as everyone buys into the culture. The culture, one of sacrifice and joy (especially for others), was built around Curry and Durant fit in and helped elevate and promote it.
If a guy like Stephen Curry, a two-time MVP, gladly sets backscreens for rookies instead of demanding the ball 24/7, then everyone else can do the small things to win. And if a guy like Kevin Durant can set aside his pride and join a team with an established superstar and two other All-Stars and do his best to improve and fit in, then so can other free agents. And if they can support each other, then nothing can stop them.
Individually, they aren't doing what we all know they can. Both guys could win scoring titles and MVPs easily if they were on their own team. Curry seemed to be at the height of his powers before Durant joined and Durant But they gave that up to do something bigger, prioritizing titles and prolonged collective greatness over everything else.
Curry and Durant aren't just co-existing; they are thriving together. Their numbers might not be what they were or what they could be, but they are living their best lives. This is a special moment in NBA history, where two guys with a right to be greedy decides to be someone else's hype man instead.
Even when one falters, he'll joyously empower the other and when the other is standing on top of the world, he'll ensure that his partner is there, too. While Warriors Twitter tears itself apart in a silly "Steph vs. KD" Civil War, the two future Hall of Famers are going to continue to co-exists harmoniously and will put themselves in a position to become one of the most dominant dynasties this league has ever seen.