Golden State Warriors: Durant could win Defensive Player of the Year
Over the years, the Golden State Warriors have become one of the NBA's premier defensive teams.
When you think of Kevin Durant and the Golden State Warriors, scoring is usually the first thing that comes to mind. Durant has been a prolific scorer since his rookie season in the NBA. For his 11 year NBA career, KD has only ever averaged under 25 points per game once.
Of course, offense is the strong point of Durant's game. There isn't much any opponent can do to stop him from scoring at will. When KD is hitting shots, it's over for the other team. However, there is an aspect to his play that is starting to become severely underrated.
In the last two seasons, the four-time scoring champion has transformed into an elite defender. His statistics only prove this narrative. Durant has now had back-to-back seasons in which he averaged above 1.5 blocks per game. Because of this, KD finished in the top 10 for total blocks last season.
Durant is able to use his insanely long arms to contest shots. He is also quick and agile enough to stay in front of perimeter players. HIs footwork on offense translates greatly to his lateral movement on defense.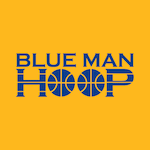 Want your voice heard? Join the Blue Man Hoop team!
Write for us!
When he is on the court, the Warriors opponents see their offensive rating decrease by six intervals. To put this number in perspective, Kawhi Leonard affected opponents offensive rating by nine during his 2016-17 Defensive Player of the Year campaign.
Durant's impact on the defensive floor is comparable to Leonard, at least statistically. This is something that should not go overlooked. Leonard is seen as one of the greatest defenders in NBA history and KD is somehow right with him in terms of ratings.
Now, let's look at the fact that the Warriors have signed another great offensive player in DeMarcus Cousins. If healthy, Cousins will make it even easier for the Warriors to score.
This will have a direct result on Durant's ability to play defense. He will be able to focus more energy towards that end of the floor. This could be enough to push him over the top as a defender and get his name into the Defensive Player of the Year conversation.