Should the Golden State Warriors experiment with a Carmelo Anthony signing?
10-time All-Star Carmelo Anthony is still available. Should the Golden State Warriors, who need to beef up their bench, consider signing the veteran?
It's not a hidden secret. The Golden State Warriors have one of the league's worst benches. This is partially due to the fact that they've spent such a vast majority of their cap space on their starters that they didn't save money to improve their bench.
There is a player just looking for a chance to compete, would likely the take the minimum, and is one of the league's all-time best scorers.
That player is Carmelo Anthony. However, Anthony's recent history has teams searching elsewhere although many of Melo's former team's struggles weren't necessarily his fault. Both his stints with the Thunder and Rockets resulted in Melo taking the fall for the team's main issues.
It's obvious that Melo's defense has taken a step back. Teams don't add Melo to strengthen their defense. For Golden State, they'd be adding Melo in an attempt to bring another elite scoring threat to their second unit.
The Warriors have one of the league's worst scoring benches. At just 28.8 points per game, the Warriors' bench is ranked 29th in per game scoring, only better than the Houston Rockets' bench. At the same time, the Warriors' bench is actually the best shooting bench as well.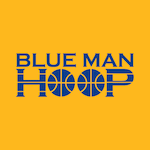 Want your voice heard? Join the Blue Man Hoop team!
Write for us!
In an ability to bring an additional threat to their roster, the Dubs could add Carmelo Anthony, allowing them to also solidify their second unit's rotation since they'd have a maximum-capacity roster.
During his ten-game stint this season with the Rockets, Melo averaged 13.4 points per game. Per 36 minutes, that average went up to just over 16 points. Those, for what time he was given, were to be expected.
That said, what drew management away from loving the idea of Melo on their roster was the combination of his lackluster defense and the fact that he was shooting just 40.5% from the field.
One of the league's all-time best isolation players, Melo's ability to catch-and-shoot would be pivotal if he was signed by Golden State.
However, it remains unlikely that the Warriors would compromise their efficient offense for an additional scoring threat.