Golden State Warriors: Klay Thompson's spot on SI's top 100 is justified
Klay Thompson has a lot to prove this season with the Golden State Warriors following a devastating ACL injury
The Golden State Warriors have benefited greatly from Klay Thompson's All-Star talents. An all-time great 3-point shooter, Thompson is one of the best shooting guards in the league. This is why fans are shocked that Sports Illustrated ranked him as just the 58th best player in the NBA.
Thompson is a five-time All-Star and three-time NBA champion. Fresh off of a season in which he averaged 21.5 points per game and earned a spot on the NBA's All-Defensive team, how is that 57 players are considered better than him?
Ahead of Thompson on this list are wildly unproven players such as Otto Porter Jr. and Jayson Tatum. Even two of his own teammates, Draymond Green and D'Angelo Russell, were listed above Thompson in SI's ranking.
It's understandable that this has caused outrage. Klay has been a pivotal member of one of the greatest teams in league history over the last few seasons. Although he had been reduced to second and third-fiddle behind Kevin Durant and Stephen Curry, Thompson has still put up 20+ points in each of the last five seasons.
As crazy as it seems, Thompson's position on the list isn't that ludicrous. Thompson suffered a devastating ACL injury in the 2019 NBA Finals and there is no telling how much this will affect him. Thompson may take some time to return to full strength and there is a real possibility he is never the same player again.
His biggest strength is his 3-point shot. This is something that shouldn't be drastically impacted by his injury. However, his defensive versatility will be hit hard. Thompson's lateral quickness and explosiveness will likely decline.
As a result, Thompson may be less useful than ever before. His shooting ability will never change, but his effectiveness as a two-way guard will take a hit.
Regardless, I must say that ranking 57 players ahead of Thompson is disrespectful to the body of work the two-time All-NBA member has shown in recent years. Until proven otherwise, Thompson should be given the benefit of the doubt. It's possible this injury has no longterm effect on his playing career.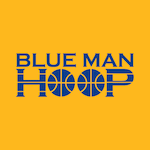 Want your voice heard? Join the Blue Man Hoop team!
Write for us!
Even so, I can understand SI's reasoning for placing him so low on the list. We simply don't know what Thompson will look like this season. Here is to hoping for the best.