Golden State Warriors: Why Steph Curry's injury could be a blessing in disguise
On Wednesday night, an already rough Golden State Warriors' 2019-2020 season took another blow.
In the 3rd quarter, Stephen Curry drove to the basket, crashing into Aron Baynes on a layup attempt who in turn fell and landed on Curry's left hand. Shortly after, the Golden State Warriors confirmed that Steph Curry had a broken hand.
Coming into this game, Warriors fans were hoping that the ugly start to the season was starting to turn around. After two blowout losses, the Warriors put together a great game against the Pelicans and looked to make it two in a row versus a surprisingly good Suns team.
The playoffs were still far away, but the Warriors still seemed like a team that could figure things out together and make a push.
But with Steph out for a significant amount of time, on top of injuries to Kevon Looney, Alec Burks, and Willie Cauley-Stein to start the season, it's most likely time for the Warriors and their fans to put the dreams of MVP-like Steph leading them to the playoffs to bed.
Even with all that considered, there's a chance that this is what is best for the franchise in the long run.
Knowing that this is going to be purely a developmental year will release some pressure on the young guys and provide them plenty of opportunities to grow and improve throughout the season.
Most importantly, with the Warriors likely to miss the playoffs now, they are almost guaranteed to keep their 2020 first-round pick.
As part of the D'Angelo Russell sign-and-trade, the Warriors gave the next a top-20-protected first-round pick in 2020, which turns into two second-round picks if it lands in the top 20. And if the Warriors don't make the playoffs, that means they will definitely be keeping that pick, which could end up being a top 10 or top 5 pick.
Knowing that we get another good rookie next year might not sound like much consolation to Warriors fans, but realistically, next year is going to be their best chance for a title in the coming years.
Keeping that pick, and its value being higher than expected, gives the Warriors another asset that they can use to bring in additional talent, either through the draft or trade.
This also give D'Angelo Russell the keys to the offense while Steph is out, so he will get a chance to run the show and get more acclimated to playing with this team.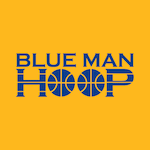 Want your voice heard? Join the Blue Man Hoop team!
Write for us!
There have been constant Russell trade rumors since he was signed, and this should help his trade value as well if that's the path the Warriors end up taking.
It's always possible that there's an unhappy superstar at the end of this season who wants out of their situation, and a package of D'Angelo Russell plus a top 10 pick among other future picks could be very enticing.
Even if they don't trade Russell, the Warriors starting lineup in 2020-21 will be Steph, Russell, Klay, Draymond, and Looney, with Poole, Evans, Paschall and a top 10 pick coming off the bench.
While there's no doubt that the 2019-20 season for the Warriors will be much more difficult, in the long run the team might just be better off knowing they will keep that draft pick.
Now they can plan long-term and focus on the 2020-21 season, knowing that's their best chance to win a championship.