Reflecting on the Golden State Warriors 2-12 start to the season
It has been a nightmare start to the 2019-20 NBA season for the Golden State Warriors.
Nothing could have prepared the Golden State Warriors for the disaster that would strike following the 2019 NBA Finals.
The onslaught of free agency losses and major injuries was never-ending. Only a month into the NBA season, the Warriors look like an entirely different team than the franchise that has won the Western Conference five consecutive times.
The Warriors roster has been decimated. In the offseason, names such as Kevin Durant, DeMarcus Cousins, Andre Iguodala, Quinn Cook, Jordan Bell and Shaun Livingston made their departures. Meanwhile, season altering injuries to Stephen Curry, Klay Thompson, Draymond Green and D'Angelo Russell have all contributed to the Dubs league-worst 2-12 record.
Aside from victories against the New Orleans Pelicans and Portland Trail Blazers, it has been a horrid run for the Dubs. Already, the Warriors have dropped three games by 20 or more points.
Of course, this should come as no surprise with two of the Warriors' best players sidelined. With no Curry or Thompson to carry the offensive load, Russell and Green have been asked to do more than expected.
Russell has impressed in spurts during his first run with the Dubs. A career-high 52 points were wasted in a loss against the Minnesota Timberwolves, but his overall averages of 24.3 points and 5.7 assists per game have been a positive for the Warriors this year.
As for Green, he is still looking to hit his stride. The former Defensive Player of the Year is playing under new circumstances without his cast of All-Star teammates for the first time. Putting up 8.8 points, 7.1 rebounds and 4.8 assists per game, Green is leaving us asking for more.
The biggest surprise of the year has been the second-round draft pick, Eric Paschall. He has averaged 19.9 points per game in the last few weeks and has scored 25+ in three matchups.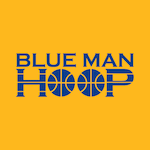 Want your voice heard? Join the Blue Man Hoop team!
Write for us!
The Warriors are going to continue to struggle as injuries hold this team back. The ceiling for the Warriors is low but we can expect a more familiar-looking squad once Curry and Thompson eventually recover.