Golden State Warriors will be a new team in second half of season
The second half of the season will bring much-needed change for the Golden State Warriors.
The days of struggling as a bottom feeder in the Western Conference are nearly over for the Golden State Warriors.
The Dubs stumbled out the gates as they began the season with a 2-12 record following key injuries to Klay Thompson, Stephen Curry and D'Angelo Russell. Entering the new year, the Warriors are the worst team in the league.
This is a stark contrast to the success that the Dubs have been experiencing in recent years. The drastic changes have been shocking but the Warriors rise back to the top will be even more sudden.
In roller coaster fashion, Golden State is setting up to finish the second half of the season in a strong way. Curry has reportedly been making progress in his recovery process and could be back on the court by February.
The importance of Curry's return can't go understated. The two-time MVP will have a massive impact on the Warriors offensive production, lifting the team out of the slump they have been in.
As of now, the Warriors rank 26th in the league in terms of points per game. This is an enormous dropoff for a team that led the NBA in scoring in four of the last five seasons.
Curry's presence will elevate the performances of both Draymond Green and Russell. Acting as the glue guy, Curry will help both his star teammates find a rhythm and easier opportunities simply by being on the court with them.
For Russell, it will be easier for him to settle into a secondary scorer role and focus more on his strength of playmaking. There will be less pressure for him to create his own shot as Curry will handle much of the offensive load.
In Green's case, he has been desperate to receive more help. Green is not accustomed to playing losing basketball alongside inexperienced players. We hope to see Green step it up in Curry's return.
Not to mention, the team has been steadily improving already. The Warriors have gone 4-5 in their last nine games, showing much more unity and better execution as a team. Before his recent shoulder injury, Russell was averaging nearly 30 points per game across the last few weeks.
Curry alone will be enough to make this team competitive again. Throw in the potential for Thompson to return at some point before the season end and we will see a very different Warriors team to finish the season.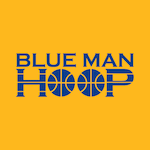 Want your voice heard? Join the Blue Man Hoop team!
Write for us!
It is still in the franchise's best interest to miss the postseason and lock up the best odds to win the NBA Draft Lottery. However, it is never too early to begin building chemistry and prepping for a championship run next year.