Golden State Warriors: Kevin Durant's rings have real value
The championships Kevin Durant won with the Golden State Warriors are more valid than his critics think.
Kendrick Perkins and Kevin Durant recently sparked debate on the value of KD's success with the Golden State Warriors.
We all know the story by now. After a collapsing in the 2016 Western Conference Finals, Durant jumped ship to the Warriors in pursuit of a long sought after title. This move has been called the "weakest move" in league history and Perkins seems to share this same belief.
In a conversation that initially started with Perkins claiming Russell Westbrook is the best player in Oklahoma City Thunder history, Durant responded with force. Durant mocked Perkins for his lackluster performances with the team in the playoffs.
It didn't take long for Perkins to say what everybody was waiting for. "You took the coward way out," Perkins said to Durant. Of course, he is referring to Durant's decision to join a 73-9 team following a historic choke job against that same team.
While it is easy to criticize Durant for his decision, there is no question that he deserved the rings he won. Without Durant, the Warriors might not have been able to capture back-to-back titles.
We can't forget Durant's 2017 Finals MVP performance in which he averaged 35.2 points, 8.2 rebounds and 1.6 blocks while shooting nearly 50/50/90 from the field. His dominance in this series was unparalleled.
Not to mention, the countless clutch shots Durant hit in the Finals. In back-to-back seasons, he drilled dagger 3-pointers over the Cleveland Cavaliers to secure a victory.
He is also responsible for leading the Warriors back from a 3-2 deficit to the Houston Rockets in 2018. Durant scored 34 points in Game 7 to lead the Warriors to their fourth consecutive NBA Finals.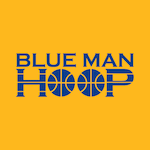 Want your voice heard? Join the Blue Man Hoop team!
Write for us!
Durant put the Warriors over the top. Without him, the Warriors may not have had enough firepower to win. They would have certainly been great, but Durant made them a dynasty.