Golden State Warriors relying heavily on D'Angelo Russell's development
D'Angelo Russell will decide the future of the Golden State Warriors.
Give credit to the Golden State Warriors' front office for acquiring D'Angelo Russell in light of losing Kevin Durant.
Though the gap left behind from the two-time Finals MVP will never be fully repaired, the Warriors did an incredible job of flipping their losses into a fortune with Russell. The 23-year-old star has the potential to lead the next generation of Warriors basketball.
Russell has been in the league for five seasons but is still far from reaching his prime. The first time All-Star broke out last year as a Most Improved Player candidate and hasn't looked back since.
The Warriors have had a rough season and Russell was partly responsible for their slow start. Since then, Russell has hit his stride and is looking like an elite offensive talent.
In the six games prior to his recent injury, D-Lo averaged 27.8 points and 5.7 assists per game on 45.2 percent shooting from the floor and 40.0 percent from the 3-point line. This was perhaps the best scoring stretch of his career, showing his constant will to improve.
The question is, how much more can Russell improve? He has youth on his side and a plethora of star veterans to learn from. We can only imagine how much playing with Stephen Curry and Klay Thompson will benefit the young guard.
D-Lo is already an elite playmaker and is on the brink of being a superstar scorer. Whether or not he makes that final leap into stardom is yet to be seen. Furthermore, it is unclear if he is capable of leading a team on his own.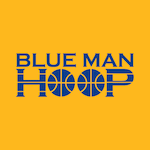 Want your voice heard? Join the Blue Man Hoop team!
Write for us!
One thing is for certain, the Warriors are relying heavily on Russell's development. The franchise went all-in on Russell when they orchestrated his sign-and-trade deal. The Warriors future success rests on Russell's shoulders.