Golden State Warriors Rumors: Wolves must overpay to get D'Angelo Russell
The Golden State Warriors have a 23-year-old superstar in D'Angelo Russell, and with talks "intensifying," they likely still won't be trading him.
It's been a tough season for the Golden State Warriors, one of the NBA's worst teams.
However, the talent on their roster would say that they're among the best teams in the league. Sadly, the injury bug has crumbled their season and forced them into focusing on the offseason even in mid-January.
This offseason, they may look to retool their roster, and they must decide if D'Angelo Russell is part of that future. Bringing in the All-Star point guard this past summer, Russell wants to stay in the Bay, but will they be lured into an offer by Minnesota?
The Wolves are reportedly "intensifying" their pursuit of Russell, according to The Athletic's Shams Charania and Jon Krawczynski. It's hard to believe the Warriors would pursue any trade that isn't an absolute blockbuster.
Minnesota traded Jeff Teague to open up room for D'Angelo Russell. Multiple picks and Robert Covington will be the starting point for Golden State, and yet they may still want more, having yet to see the Curry-Thompson-Russell combo in action.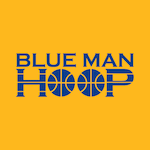 Want your voice heard? Join the Blue Man Hoop team!
Write for us!
Russell is averaging 23.3 points per game this season, a career-high. He's been absolutely dominant when he's been on the court, missing multiple games with both toe and shoulder injuries.
The real reason the Wolves would have to overpay is the Warriors really don't know what they have yet. They wanted to figure out their rotation with Stephen Curry and Klay Thompson to pair with D'Angelo Russell.
If that doesn't work, then fine. But, if it did, they may have the best three-most backcourt in the league. To go along with the Warriors valuing him above the normal young and elite isolation scorer, there no steal going down for Minnesota.
For now, don't expect Minnesota to make any movement on Russell.