Golden State Warriors: Let's come to the realization that Draymond Green is having a subpar season
Golden State Warriors' fans love to back Draymond Green, having seen what he's meant to the team the last few seasons, but it's time to come to reality.
The Golden State Warriors are the Western Conference's worst team. It's not even close either. However, they have excuses.
Klay Thompson and Stephen Curry, two players that have combined for over ten All-Star appearances, have a total of just four games played this season. Curry broke his hand in the fourth game and Thompson has been out since June with a torn ACL.
That's left the bulk of the offensive and defensive load on Draymond Green. Instead of Green picking up the ball, it's been Alec Burks, Glenn Robinson III and Damion Lee. Don't get me wrong though; Green has been important.
He's averaging 8.4 points, 6.3 rebounds and 5.6 assists per game. He's continued his prowess defensively, averaging 1.5 steals and .8 blocks. He's been solid this season, but he still needs to be better.
Those averages are not what fans were hoping for from the three-time All-Star. When Kevin Durant left this offseason, it was hopeful that Green's numbers would return to the ones that he put up the season prior to Durant's arrival.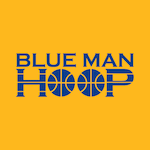 Want your voice heard? Join the Blue Man Hoop team!
Write for us!
In that record-setting 2015-2016 season, Green averaged 14.0 points, 9.5 rebounds, 7.4 assists, 1.5 steals and 1.4 blocks.
That's what fans were wanting Green to produce, and while most will still back the player that's been so critical for the team's five straight NBA Finals appearances, it's time to start really digging into his play without Curry and Thompson.
Green is the ultimate glueman.
He glues the team together into a roster that's composed and brings the emotion and energy on a nightly basis. But, when you take away the biggest pieces, the glue and puzzle just aren't the same.
That's the Warriors' reality this season, but if one thing is obvious, it's that Green hasn't produced the numbers many were craving.