Golden State Warriors: Why the Splash Brothers should return this season
Putting the long-term view of a top lottery pick and future assets aside, it would make logical sense for the Splash Brothers to return for at least (some) of this Golden State Warriors reboot season.
There are two objectives driving this reboot season for the Golden State Warriors: the development of the young pieces and the continuous monitoring of the (likely) lottery pick in the 2020 draft. The injuries to franchise cornerstones Stephen Curry and Klay Thompson made this an accepted truth at the start of the season.
Both Cury and Thompson being sidelined increases the likelihood of grabbing a top-five pick come June, but what happens when one (or possibly both) returns to the court for the Warriors? While this current Golden State roster is nowhere near contender status, Curry and possibly Thompson's return increases the likelihood of adding more games to the win column.
In turn, that lottery pick may decrease in value. So are we better off having Curry and Thompson stay on the sidelines for the remainder of the season?
No, by all means, it would be in the best interests of Golden State to see one or both of them back in some form of action by season's end.
For starters, you can count on Curry being back in action, as The Athletic's Marcus Thompson reported that March 1st against the Washington Wizards is likely his return date. Per Thompson, Stephen Curry's injured hand has largely healed, he's no longer wearing a brace, and has looked ready to play during practice sessions.
Curry relishes any opportunity to get back on the court, so you can count on him suiting back up for the franchise this season.
Klay Thompson is more of the question mark, understandably given he's rehabbing from a more serious injury. The latest from Steve Kerr says he's progressing well, but we still have no official confirmation that he'll suit up this year. But if Golden State is truly thinking long-term, they'd be wise to get him a small sample size of action before the offseason.
The Warriors should all be thinking about opening night for the 2020 season. After a reboot year, ideally, they'll want their roster set in place, comfortable in the system, and ready from the start to get back to contender status. On the contrary, you don't want the Splash Brothers to be working back into form at that point.
You want them looking as if they never spent time on the sideline, and it's best to get them some playing time this season on top of the (presumed) action they'll be getting in the summer. If Curry does return on March 1st, that gives him 22 games of action for the rest of the season. A solid sample size to get back into rhythm.
If Klay Thompson even gets a smaller sample size, say 10 games, playing 10-15min per night, even that will prove to be beneficial in the long run. Allow him to get his legs back under him, get back to facing NBA level competition, and like Curry, prep him for the summer.
Both are strong bets to be on the roster for the 2020 Summer Olympics in Tokyo. Get some NBA action before the summer, represent Team USA in Tokyo, and then return next season in shape, ready to bring the Warriors back to contention? Sounds like a plan to me.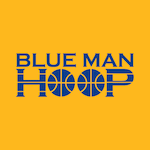 Want your voice heard? Join the Blue Man Hoop team!
Write for us!
It's been a tough season to swallow, but one point of view is to take it as a blessing in disguise. Once Curry and Thompson return to the floor, it's a totally different ballgame with these Warriors. And if this organization is smart, they'll want the Splash Brothers returning to the floor sooner rather than later.