Golden State Warriors may have a lineup problem once fully healthy
The Golden State Warriors have a potential issue on their hands.
The 2019-20 NBA season has been filled with plenty of issues for the Golden State Warriors. Standing as the worst team in the league, there are a number of reasons for the Dubs misery.
All season long, the Warriors have dealt with injury after injury. Consequently, heavy minutes and expectations have been given to inexperienced players as the Dubs are forced to put someone on the court every night.
A few players have taken advantage of their increased opportunities. Rookie Eric Paschall will likely reach the NBA's Rising Stars game while Alec Burks is averaging a career-high 15.9 points per game off of the bench.
Golden State is dealing with a serious lack of talent at the moment. However, their struggles won't magically be solved when Stephen Curry and Klay Thompson return form injury. On the contrary, this will only mark the beginning of a few interesting problems the Dubs will have moving forward.
As of now, D'Angelo Russell has been showing bright signs as the Dubs only reliable option on offense. The 23-year-old is putting up 23.9 points and 6.3 assists per game and will be an important piece of the puzzle next year.
Where the issues arise is determining how the Warriors will manage to play their three All-Star guards together. Will a starting lineup of Curry, Russell and Thompson be able to work?
There is no doubt this lineup would be deadly on offense. The dual playmaking abilities of Russell and Curry combined with the trio's unmatched 3-point shooting would be a terror for opponents to defend.
However, the Warriors would struggle on defense with two undersized guards in the backcourt. Thompson may be an elite perimeter defender but playing him at the forward position is a stretch and there is no telling how he will look following a devastating ACL injury.
The Dubs are in desperate need of a true small forward to fill the gap left by Kevin Durant. If they managed to fill this void, Russell would likely be moved to the bench. This feels like a massive waste of talent. At that point, they may as well trade D-Lo in order to maximize his value.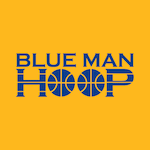 Want your voice heard? Join the Blue Man Hoop team!
Write for us!
Luckily, the Warriors have no reason to rush. They can wait until next season to watch how this trio will mesh before making any drastic decisions. One thing is for certain, this potential problem will linger over the team for the next few months.