Golden State Warriors: Andrew Wiggins showing the good and the bad
Andrew Wiggins is already showing both the good and bad sides of his game for the Golden State Warriors.
The Golden State Warriors knew they were getting a wild card when they traded for Andrew Wiggins. It was tough to give up such a promising prospect such as D'Angelo Russell but it made much more sense from a lineup standpoint to bring Wiggins to the Bay Area in place of D-Lo.
Wiggins is a lanky small forward and fills in a massive gap in the Warriors roster with Kevin Durant now gone. The Warriors hope that a change of scenery will bring out the best in Wiggins. Thus far, we have already seen both the highs and lows.
In Wiggins debut game, he began shooting 0-3 from the field and had one of his shots emphatically rejected by Los Angeles Lakers center, JaVale McGee. Wiggins instantly recovered from this slow start, connecting on 8-of-9 subsequent attempts to score 24 points.
The story in his second game was much of the same. Wiggins opened up by shooting 1-7 from the floor before drilling five consecutive shots in a big scoring third quarter. Just as quickly as he heated up, he cooled off again the fourth quarter.
This is a very small sample size for a player adjusting to an entirely new roster but it is telling of the player Wiggins has been for much of his career. There are flashes of great potential in his game but they are often followed by an equally ugly stretch of play.
His usage rate has decreased in his two games with the Warriors as the Dubs play a much more team-oriented style than the Minnesota Timberwolves. This is something that can benefit Wiggins moving forward as his explosive athleticism has already made him a favorite for Draymond Green to target on cuts to the hoop.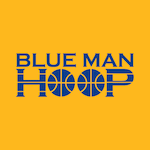 Want your voice heard? Join the Blue Man Hoop team!
Write for us!
Once the Warriors are at full strength with Stephen Curry and Klay Thompson, Wiggins will be able to take a backseat and utilize his talents more sparingly. This will hopefully reduce the massive inconsistencies in his game, allowing him to focus more on picking his go-to spots.