Golden State Warriors NBA Draft: Anthony Edwards is best longterm fit
If the Golden State Warriors are thinking longterm, Anthony Edwards is the best prospect to target in the 2020 NBA Draft.
The 2020 NBA Draft class is shaping up to be one of the weaker ones in recent history. The Golden State Warriors have a number of different options regardless of where they land in the draft order, but Anthony Edwards might be their best option.
A few names that have consistently landed in the top three of most mock drafts are LaMelo Ball, James Wiseman and Anthony Edwards. These three appear to be the consensus top picks, but it's nearly impossible to determine who will go No. 1 overall.
The Warriors may be the team that gets to decide this. With a 12-42 record, the Warriors are tied for the best odds to win the 2020 Draft Lottery. A top pick offers the franchise a chance to rebuild during a time in which they are already poised to compete for a championship.
Stephen Curry, Klay Thompson, Draymond Green and Andrew Wiggins will thrust the Warriors back into title contention next season. This makes for an interesting question surrounding their upcoming first-round pick. Will the Warriors draft for current strength or will they set their eyes on a prospect that can help them most in the long run?
If the Warriors are looking to maximize their chances of winning now, they should target Wiseman. The towering center is a dominant rim protector and will thrive as the fifth man in the Warriors patented "death lineup." Wiseman averaged nearly 20 points and 10 rebounds in three games for Memphis.
However, Wiseman doesn't appear to be a player that can benefit the team longterm. There are major concerns of his offensive consistency and I wouldn't bet on him becoming a two-way force on his own. Wiseman is not a franchise cornerstone.
Edwards, on the other hand, might have the most potential of anyone in the draft. He has a huge frame for a guard and is a bully when attacking the rim. He has some work to do as a ball-handler but is skilled enough to shake defenders and shoot from deep.
For Georgie, Edwards is averaging 19.7 points and 5.5 rebounds. He scored a career-high 37 points early in the season as he showed off his ability to heat up from downtown, nailing seven 3-pointers.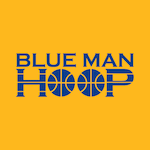 Want your voice heard? Join the Blue Man Hoop team!
Write for us!
Edwards has all of the tools necessary to become an elite two-way player. With proper development, Edwards could carry the torch for the next 10 years of Golden State basketball.
Staggering minutes alongside the Splash Brothers, Edwards would be a solid rotational player early on and should learn rapidly from his star teammates. One day, Edwards could become a more effective version of Andre Iguodala due to his similar build and playstyle.