Golden State Warriors have narrowed down who they want in 2020 draft
We don't know specifically where the Golden State Warriors will pick in the 2020 NBA Draft, but they have an idea of who they want.
If the 2019-2020 season ended today, which certainly seems like the currently suspended season could eventually be ended, the Golden State Warriors would end with the top odds for the first overall pick in the 2020 NBA Draft.
Whether their June draft will actually happen is another question. Currently, the Warriors are the worst team in the Western Conference. They are also the only team in the NBA already eliminated from playoff contention.
Injuries have plagued this season, but they also returned them their first-round pick which was originally dealt to the Brooklyn Nets. The pick was dealt to Brooklyn was top-20 protected which is why it will thankfully return.
With that pick, who will the Warriors take? Well, they already have their eyes on a few targets.
"The Warriors already have, according to Harris, narrowed their first-round focus to "eight or 10″ players. But with the NBA calendar in shambles, teams have no idea how the draft — and pre-draft preparation — will be affected, or when it will take place," Monte Poole of NBC Sports' said.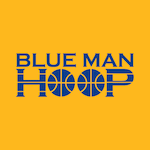 Want your voice heard? Join the Blue Man Hoop team!
Write for us!
Harris, the team's director of player personnel, will have a good bit on his plate given the other contract he'll have to maneuver around as well.
After dealing six players at the deadline and bringing in a max-contract small forward in Andrew Wiggins, fitting a top-three draft pick will be no easy challenge. The Warriors will also need to enhance their bench in the offseason as well so Harris will have to keep that in mind.
The assumed draft pick is either James Wiseman or Anthony Edwards. But, Harris says they've narrowed it down to eight or 10. It's tough to really assume who they have their eye on outside of the above four or five that are projected to be takeen at the top.
He also noted to Poole that they won't be drafting for fit.
They want the player with the highest ceiling, as most teams drafting high in the lottery want. Before they truly narrow it down though to just two or three, they'll need to know which pick they have, something we should know early in the offseason.