Golden State Warriors: Steve Kerr heaps high praise on rookie Eric Paschall
The Golden State Warriors have already been eliminated from playoff contention, but fear not, Steve Kerr doesn't even believe it was a lost season.
There's no denying the Golden State Warriors 2019-2020 was tough. It's still not over yet, and with the season currently suspended, the Warriors nightmare of a season may continue to loom into the summer.
While to many this season was a waste, the Warriors, especially the young guns, learned a few lessons.
Players like Jordan Poole and Eric Paschall, two rookies that needed the time at the sports' highest level to develop their skill set, were thankful that the Warriors may not have been the league's best team.
As a fanbase, it was difficult.
From five straight NBA Finals appearances to being the worst team in the league is a transition not many franchises go through. Those fans that thought it was ruined after Stephen Curry's broken hand may have been in the majority of those that love the Warriors.
Steve Kerr isn't in their boat though.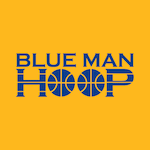 Want your voice heard? Join the Blue Man Hoop team!
Write for us!
The Warriors head coach feels the season wasn't wasted, and all it took was the development of a player like Eric Paschall. Kerr heaped high praise on Paschall, a forward that may have already played the last game of his rookie season.
"Our young guys got really valuable playing time. That was important," coach Steve Kerr said Wednesday on "The TK Show" podcast with Tim Kawakami of The Athletic. "Eric Paschall looks like a guy — because of his physical strength, his power, his confidence obviously — we could throw into a playoff game right now and he would hold his own," Drew Shiller of NBC Sports Bay Area wrote.
Kerr is absolutely correct. Paschall has been terrific.
He averaged 14.0 points per game and shot 49.7% from the field in his first 60 games in the NBA. Paschall had moments of success, and like any rookie, he had stretches of play that were underwhelming.
A big, physical forward, Paschall has thrived by being more aggressive and just all-around a smarter player than the bulk of those in the league. That's what five years of college can do, and after figuring out the pace of the league, Paschall has been terrific.
A second-round pick, Paschall can expect to stay in the rotation for the foreseeable future.