Golden State Warriors NBA Draft: Analyzing James Wiseman's limitations
James Wiseman is one of the Golden State Warriors top NBA Draft targets but he has some severe limitations that will hold him back.
Before the season began, James Wiseman was at the top of most NBA Draft wish lists as the big man flashed his potential in high school. He is an exciting prospect and one that the Golden State Warriors have had their eyes on all year long.
To keep it short, Wiseman might be the best center in the draft. He is a towering seven-footer with incredibly long arms and high leaping ability. He has dominated smaller opponents, blocking shots and hauling in rebounds with authority.
This instantly put Wiseman on the Warriors radar as a two-way big that can run the floor has always been a benefit for the Dubs. But, before committing to a selection, the Golden State Warriors need to take a deep look at Wiseman's potential limitations.
For starters, he has yet to prove himself against top tier competition. Wiseman played in only three collegiate games and although his averages of 19.7 points, 10.7 rebounds and 3.0 blocks per game are encouraging, it is too small of a sample size to be reliable.
There is no simulating the strength and athleticism of every single NBA player. Wiseman will not be able to bully opponents at this level and it could have a severe impact on his production.
On top of this, Wiseman appears to have a restricted offensive game. His touch outside of the paint is nonexistent and he struggles to score when pushed to his off-hand. This can create problems for any team that decides to rely on Wiseman for points in the paint.
The Warriors won't be needing Wiseman to score at a high rate and he will mostly have his shots delivered on a platter from playmakers such as Stephen Curry and Draymond Green. However, his lack of shooting could shrink the floor and reduce his value to the team.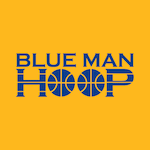 Want your voice heard? Join the Blue Man Hoop team!
Write for us!
Wiseman has potential as a defender but it's risky to bet on a prospect who has not been tested against elite competition. The Warriors better be careful when considering Wiseman as their man in the 2020 NBA Draft.