Golden State Warriors: Steve Kerr has faith in Paschall-Green combo
The Golden State Warriors have several different yet similar players, and one combo that Steve Kerr hopes to work is Eric Paschall and Draymond Green.
Hopefully returning to dominance again in 2021, the Golden State Warriors know their core headed into next season already. With the team's long-time Big 3 remaining the leaders of the group, players like Eric Paschall and Jordan Poole will see ample time as well.
Paschall, a player that elevated himself above the field this season, has proven that he can play at basketball's highest level.
Averaging 14.0 points per game, Paschall will get minutes next season, but figuring out how to maximize his production will be left up to Steve Kerr and the coaching staff. Who does he play with? How does he transition to life with Stephen Curry and Klay Thompson?
The biggest question though that can be already answered is: Can he play alongside Draymond Green? Head coach Kerr believes that, with Curry and Thompson's return, the duo could thrive in the frontcourt with those two on the court.
"I don't think that's really a big issue because if Draymond is on the floor, he just guards anybody he wants because he's that good," Golden State's coach said recently on "The TK Show" podcast with Tim Kawakami of The Athletic. "If we decide to play him at the five and Eric at the four, we're gonna have a lot of shooting on the floor next to those guys — and play-making — and I think that's a combination that can work," NBC Sports' Drew Shiller wrote.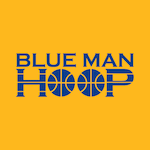 Want your voice heard? Join the Blue Man Hoop team!
Write for us!
We already have a sample size of what Paschall and Draymond-led lineup looks like. During the 2019-2020 season, they played 398 minutes together. With a -10.9 net rating, the duo did not perform well.
There are other reasons than just the combination of the two. Think about the absence of Curry and Thompson. While they may have had Russell on the court, the playmaking and spacing that two of the league's all-time great three-point threats bring are unparalleled.
What is worrisome is that both shot under 30% from three this season. They are going to rely on Thompson and Curry for that spacing when on the court together. Separately, it's a whole new ballgame, but together, they must have those threats to open up the court to truly thrive.
At the end of the day, if Kerr, a three-time NBA champion coach, thinks they'll be fine, then we'll likely be seeing quite a bit of Paschall and Draymond together next season.