Golden State Warriors NBA Draft: Obi Toppin is most 'NBA Ready' prospect
The Golden State Warriors are targetting NBA Draft prospects who are ready to compete right away. Obi Toppin may be their best bet.
With another deep playoff run in mind for next season, the Golden State Warriors have adjusted their 2020 NBA Draft goals to look for a prospect that needs the least amount of development. This might just be Obi Toppin.
Toppin redshirted his first season at Dayton before breaking out as a star in his freshman year. One season later, Toppin took another step forward and improved in every statistical category.
The athletic forward showed off his inside-out scoring potential as he averaged 20.0 points on 39.0 percent shooting from deep and 63.3 percent overall. HIs efficient shooting has made him one of the top prospects in the draft.
Toppin's fit with the Warriors makes sense. Standing at 6'9″ and having a pure shot from beyond the arch, Toppin can fill in as a stretch four for the Dubs. His ability to play above the rim also makes him a threat in transition. This type of versatility is exactly what Golden State needs.
Toppin is also an above-average playmaker for his position. He dished out 2.2 assists per game while showing solid court vision and being a willing passer.
The defensive end is where he may potentially struggle. He is slow at turning his body and will not last long on the perimeter against NBA level competition. Not to mention, he is not the best rim protector despite his high vertical.
This could hurt the Dubs if Toppin's scoring doesn't come to him right away. A lackluster shooting performance from the rookie combined with poor defense would make him a detriment to the team.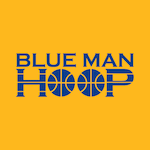 Want your voice heard? Join the Blue Man Hoop team!
Write for us!
Overall, Toppin is still the prospect that can help the Warriors the most next season. He is older than most top prospects and has already polished quite a bit of his offensive game. If the Warriors elect to keep their draft pick this year, Toppin seems to be the most logical choice for competitiveness.