Golden State Warriors: Is Giannis Antetokounmpo still a trade target?
With the NBA season on pause, will the Golden State Warriors still be able to orchestrate a potential trade for Giannis Antetokounmpo?
Earlier in the season, reports emerged that the Golden State Warriors might be gearing up to make a swing for Giannis Antentokounmpo in the offseason. Now that the NBA season has been put on hold, how does this affect the Warriors chances of acquiring the league's reigning MVP?
Giannis was on historic pace before the season was suspended. Leading the Milwaukee Bucks to a 53-12 record while averaging 29.6 points, 13.7 rebounds, 5.8 assists, 1.0 blocks and 1.0 steals per game, the Greek Freak was set to finish with the highest single-season PER of all-time.
The only way the Warriors could add Giannis this year would be via trade as his contract with the Bucks isn't set to end until 2021. There is no chance the Bucks would willingly trade their franchise superstar unless he demanded to be shipped.
This wouldn't be the first time we saw a frustrated star force his way out of an organization. Names such as Kyrie Irving, Paul George and Kawhi Leonard serve as recent examples.
The Warriors' best bet would be if the Bucks faltered in the playoffs again. However, this won't be possible if the NBA is unable to salvage the remainder of this season.
Even if the league does resume at a later time, the offseason will undoubtedly be cut short to compensate for next season. This leaves less of an opportunity for the Warriors to package a deal and convince the Bucks to pull the trigger.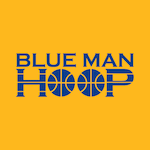 Want your voice heard? Join the Blue Man Hoop team!
Write for us!
There is no reason to assume that Milwaukee will panic and trade their star before he finishes the last season of his contract. I'm sure Giannis is still on the Warriors wishlist but it is becoming increasingly unlikely he joins the team before 2021.