Golden State Warriors: Klay Thompson wants to be a Warrior for life
In a recent interview, Klay Thompson's father stated that the five-time All-Star wants to be a member of the Golden State Warriors for life.
It's a rare thing to see one player stick with the same team for the entire career in the modern-day NBA. For Klay Thompson, retiring with the Golden State Warriors seems to be a goal.
In a recent podcast called Raising Fame, Mychal Thompson talked about his son's love for the franchise:
"He (Klay) has said it to me in private that he loves playing with Steph and he wants to retire as a Warrior after another 10 years."
Klay's father went on to explain that Klay feels honored to play alongside Stephen Curry and wants to be inducted into the Hall of Fame alongside his Splash Brother.
Curry and Thompson have certainly built quite the bond over the years. As the two stars led the Warriors to five trips to the NBA Finals and three championships they also formed a brotherhood. Curry recently stated that rewatching Thompson's historic 60 point game against the Indiana Pacers made his 'soul smile'.
Since the 2015-16 NBA season, Thompson and Curry have averaged a combined 48.8 points per game. During this stretch, the two have drilled a total of 2,306 3-pointers, the most of any two teammates during a four-season stretch.
It's a guarantee that these two both have their career's honored in the Hall of Fame one day. They will likely go down as the greatest shooting duo of all-time and have a bright few seasons ahead of them to rack up even more accolades.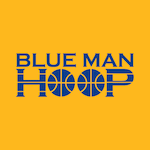 Want your voice heard? Join the Blue Man Hoop team!
Write for us!
Thompson is on contract for four more seasons but if his father is speaking the truth, Thompson plans to be in Golden State for at least 10 more years. So, make sure to appreciate the rest of his legendary career.