Olympics being postponed could help Klay Thompson and Stephen Curry
With the 2020 Olympics being postponed until next year, a door has been opened for both Klay Thompson and Stephen Curry to compete.
Stephen Curry and Klay Thompson, otherwise known as the Splash Brothers, have been wanting to represent Team USA in the Olympics together for years. Now that the 2020 games have been postponed, the two may finally have their chance to compete.
In a reaction to the COVID-19 virus, the 2020 Olympic Games have officially been delayed until 2021. This is a devastating blow to countless athletes who worked hard to be prepared for this summer but it is a sigh of relief for Curry and Thompson.
The All-Star duo hasn't exactly been healthy this season. Thompson is still nurturing a torn ACL ligament while Curry has been dealing with nerve damage in his hand since late October.
Curry did make his return to the floor before the NBA season was suspended but his availability for the Olympic Games was still in question. As for Thompson, there was no chance the five-time All-Star would be able to compete this summer.
Missing the games would have been a disappointment for Curry. Despite a fantastic career, Curry has never played in the Olympics as a knee injury held him back in 2016. However, he has won a gold medal as a member of the FIBA Team USA team.
Thompson did compete in the 2016 Olympics and contributed to their gold medal run by averaging 9.9 points per game. Still, there is no doubt he wants to play alongside his teammate and longtime running partner on the biggest global stage for basketball.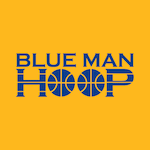 Want your voice heard? Join the Blue Man Hoop team!
Write for us!
With a full year between now and the Olympics, there is a solid chance that both Curry and Thompson will be available to represent Team USA. Let's hope for the best and a speedy recovery for the two guards.