Golden State Warriors narrow NBA Draft options to 7 prospects
The Golden State Warriors are taking advantage of this downtime in the league to narrow their NBA Draft options to seven prospects.
Recently, Steve Kerr sat down with Tom Tolbert, Rod Brooks and Larry Kreuger to talk about the Golden State Warriors NBA Draft options for KNBR 680 in San Fransisco. According to Kerr, the front office has conducted a list of roughly seven prospects to consider.
Exactly who the Warriors are targetting isn't clear. This year's draft isn't conspicuous and it's tough to predict which players will be drafted early in the lottery. However, we can still come to a few likely conclusions.
For starters, it's almost certain that players such as LaMelo Ball, Anthony Edwards, Obi Toppin and James Wiseman are on the Dubs wish list. Each one of these young stars has shown enough promise to warrant top pick status.
These four generally seem to be the most intriguing prospects in the draft. If the Warriors manage to take full advantage of their 14.0 percent chance of winning the 2020 NBA Draft Lottery, we can expect them to select one of those four players.
Aside from the obvious four, it becomes more difficult to narrow the list. We can assume that USC's breakout star, Oneyaka Okongwu, will earn some recognition from NBA scouts. Furthermore, Deni Avdija has garnered quite a bit of attention overseas.
All of these players have the potential to help the Warriors. Still, the Dubs will be looking to maximize their talent and find a prospect capable of helping them compete in the playoffs as they look to return to the NBA Finals next season.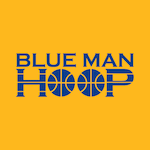 Want your voice heard? Join the Blue Man Hoop team!
Write for us!
This means an older prospect like Toppin may be their best bet. Toppin is 22 and has already developed a solid chunk of his offensive game. Of course, they can also take a risk and players such as Edwards and Ball who are inexperienced but have much higher ceilings.