Golden State Warriors: Anthony Edwards would be a strange fit with Dubs
Many analysts and columnists are expecting the Golden State Warriors to go with Anthony Edwards if they are awarded the top-overall selection.
Anthony Edwards, if the Golden State Warriors do secure the pick, could be the pick if it's not traded prior to the draft's commencement, but that's not to say the addition wouldn't still be odd given the Warriors current roster compilation.
After all, just think about it.
The Golden State Warriors dealt D'Angelo Russell to the Minnesota Timberwolves because they had their backcourt's future. There was no need to keep an All-Star on the bench, and now, by drafting 6-foot-5 Anthony Edwards, they could be doing that all over again.
James Wiseman, who they seemingly aren't interested in, and Obi Toppin may be the only few potential No. 1 picks to immediately fill a hole for the team. Edwards would just join the group and play behind Andrew Wiggins, the player Golden State traded Russell for.
Prior to the NBA's suspension due to the coronavirus pandemic currently ravaging the United State, Wiggins was averaging 19.4 points per game. Shooting 45.7%, Wiggins showed a level to his game that Golden State craved.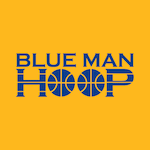 Want your voice heard? Join the Blue Man Hoop team!
Write for us!
Wiggins and Edwards, although Edwards seems strong and capable of developing into a more elite player on both ends of the court eventually, have somewhat similar games, both notching within a .32 and .34 free throw attempt rate this past season.
They are both athletic small forwards that are generally inefficient from the field, although Wiggins has become better in recent years.
Edwards, in his one season at Georgia, shot just 40.2% from the field. Although he is a human microwave with his ability to instantly heat up, Edwards would give Golden State something they already have.
That is seemingly the same reason they sent away Russell.
The Warriors need to craft a starting five with a second unit that buys into their program, and in their current program, Edwards may not mold into the superstar he could be or at least he won't secure the high-volume shots that a potential superstar going to a bottom-three team would get.
Wiseman or Toppin could come in a fill a void in the team's frontcourt. Such a dynamic team, the Warriors likely won't be drafting for it, one reason Edwards is clearly the top pick for the league's worst team.