Shaquille O'Neal says Golden State Warriors would be non-factor in his era
Shaquille O'Neal had a blunt response for Draymond Green who spoke on a hypothetical matchup between the Golden State Warriors and Los Angeles Lakers.
During the NBA's hiatus, we have had plenty of time to hear former and current NBA stars speak on hypothetical matchups. Most recently, Draymond Green and Shaquille O'Neal pondered a showdown between the Golden State Warriors and Los Angeles Lakers.
On The Big Podcast with Shaq, O'Neal was quick to dismiss any chance of the Warriors competing in his era. "They would have been the sixth or seventh seed," O'Neal said. "They wouldn't have even been in the game."
O'Neal went on to cite early 2000s powerhouses such as the San Antonio Spurs, Portland Trail Blazers, Utah Jazz, Sacramento Kings and his own Lakers. In his opinion, the Warriors would fall somewhere under those six teams.
For those who don't know how this conversation started, it all began when Green stated he and Stephen Curry would 'destroy' O'Neal in a pick-and-roll scenario. On the All The Smoke podcast with Matt Barnes and Stephen Jackson, Green noted that while the Warriors would run Shaq off of the floor in today's game, they would stand no chance at defending him in the post in the 2000s.
It's impossible to determine which team would have won in a battle but we can unpackage these statements a bit. One thing is for certain, the Warriors would have been a force in any era of NBA basketball.
From 2015 to 2019, the Dubs reached five consecutive NBA Finals and set multiple records during their three championship runs. Their 2016-17 roster rattled off a 16-1 record in the playoffs and posted unparalleled offensive numbers.
It is very important to clarify that the game has changed quite a bit since O'Neal was dominating teams and the spacing the Warriors could provide would certainly put a strain on his defensive capabilities.
As Shaq mentioned himself, he was one of the first centers to have the versatility to grab the rebound and push the ball in transition. To his credit, he believes he would have been able to hold his own in today's pace and space era.
However, I don't think the Lakers would have been able to match the unprecedented offensive firepower the 2016-17 Warriors had. The trio of Curry, Klay Thompson and Kevin Durant would single-handedly outshoot the Lakers.
Of course, the Lakers had their fair share of scrappy perimeter defenders. Kobe Bryant was a member of the All-Defensive First Team while players like Ron Harper and Brian Shaw bolstered the LA defense.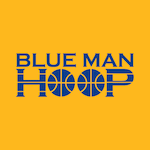 Want your voice heard? Join the Blue Man Hoop team!
Write for us!
I do think O'Neal would reak havoc on the Warriors interior defense but the Dubs onslaught of 3-pointers may have been enough to sway the odds in their favor. Regardless, it is nice to see these two legends discussing this matchup with respect.