Golden State Warriors 2019-20 NBA season should be over
The NBA has yet to announce their plans for the remainder of the season but the Golden State Warriors should be finished.
Adam Silver announced on Tuesday that the NBA would come to an official decision regarding the remainder of the 2019-20 season within the next 2-4 weeks. While players are hopeful that a reimagined version of the playoffs will appear, the Golden State Warriors are hoping they won't be asked to return to the floor.
Steve Kerr and the front office have expressed their disinterest in continuing the season multiple times already. As soon as the league suspended play, the Warriors shifted into offseason mode.
This is for good reason. The Dubs don't have anything to gain by finishing the final 17 games of their schedule. Golden State was already eliminated from playoff contention and stands at a league-worst 15-50 record. Rather, the franchise is eager to move forward and continue building its future.
It's an exciting time to be a Dubs fan. The front office has flipped the loss of Kevin Durant into a potentially solid prospect in Andrew Wiggins and a 2021 first-round draft pick. This goes along nicely with their eventual top-five pick in the upcoming draft.
All of the Warriors' attention is focused on next season. There is no point in asking them to travel to wherever the league elects to create their 'bubble' in order to safely play the rest of the season's games.
If the NBA chooses to crown a champion, it will likely take a month-long process in which players are secluded to a resort either in Las Vegas or Florida. The Warriors would essentially be taken away from their families to finish a season that they have no interest in completing.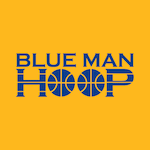 Want your voice heard? Join the Blue Man Hoop team!
Write for us!
Because of this, it's possible the Warriors have played their final game of the year. It's safe to say next season will be delayed for quite some time as the world looks for a solution to the COVID-19 pandemic.