Golden State Warriors: Carmelo Anthony could be surprisingly good fit
Carmelo Anthony was banished from the NBA last year but he could be a surprisingly good fit for the Golden State Warriors.
Believe it or not, Carmelo Anthony has been on the road to redemption since being outcasted by the NBA last year. So much so, the 10-time All-Star could be a welcomed addition to the Golden State Warriors.
The Dubs are in need of someone who knows what they are doing. While Stephen Curry, Klay Thompson and Draymond Green have plenty of playoff experience, the rest of their roster doesn't.
Relying on young players in the postseason could be their downfall. It can take years for rising stars to get over the hump in the playoffs and the Dubs don't have any time to spare with an aging core.
Anthony has more than enough experience as a 35-year-old former superstar. His talent level has dropped but he remains a skilled isolation scorer. For the Portland Trail Blazers this year, Anthony is averaging 15.3 points and 6.3 rebounds per game.
Though he is scrutinized for his inefficiency, Melo is shooting above 40 percent from the field and 37.2 percent from deep. These numbers aren't amazing but they aren't bad either.
Melo is nearing the end of his career and won't receive many more opportunities to win a championship. Embracing a reduced role is something he is already doing in Portland and I am sure he would take it a step further to compete for a championship with the Warriors.
The Dubs need players they can trust to be on the court in big moments. Carmelo can be a supporting member of a deep playoff push if the Dubs are able to convince him to buy into the system.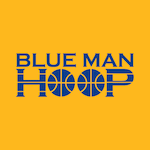 Want your voice heard? Join the Blue Man Hoop team!
Write for us!
Both parties would have to agree on a deal that would financially allow Anthony to join the team but there is a reality in which this situation works out beautifully for each side.