Warriors: B.J. Armstrong says Klay Thompson would "excel" in Jordan era
Would Klay Thompson be as dominant if he played thirty years ago? Well, according to a former All-Star, the answer for the Warriors' guard is yes.
It's tough to compare eras, especially since many haven't watched both in full swing. However, former All-Star B.J. Armstrong had, and he noted Warriors' guard Klay Thompson as the one player that may most excel back in Jordan's era.
The 6-foot-2 point guard played with Michael Jordan's Bulls, winning three titles. At his peak, he neared 15 points per game. It's somewhat shocking that Armstrong did find himself on the All-Star team, but given the success of the Bulls, it certainly wasn't wrong to add him.
That said, Armstrong, who thrived in an era that was partly dominated by bigger players, has a right to say who would and wouldn't succeed in his day, and he gave credit to Thompson, one of the league's most competitive, defensive-minded players.
"One the players I think would excel most in that era would be Klay Thompson. Klay Thompson, I think, is equipped to play in that era because of the way he plays. He's a big guard, I think he has some physicality of the game and he played the game in the way that they all played. We ran plays where the 2-guard had to provide spacing and you had to be able to take your matchup," Armstrong said on ESPN's popular talk show First Take.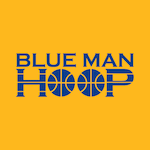 Want your voice heard? Join the Blue Man Hoop team!
Write for us!
After tearing his ACL in the 2019 NBA Finals, Thompson walked back on the court and sank two free throws. He was about to finish out the possession as well but ended up hobbling off the court.
Thompson is a five-time All-Star and has scored over 20 points for five straight seasons as well. Also shooting over 40% from deep in every season he's been in the league, Thompson's truly been one of the best players from that stellar 2011 draft class.
Armstrong is absolutely correct with how Thompson's talent would translate back in the day. A 6-foot-7 guard that is gritty and can defend is something every coach craves, and his ability to score without too many dribbles is just another plus he adds to the table.
Thompson would be a dominant guard in any era, and Armstrong's evaluation of the Warriors' superstar and three-time champion is spot on.
However, that's not the only thing we learned from "The Last Dance." We also know that the Warriors opted to not have a similar production made of their dynasty.