Golden State Warriors NBA Draft: Moving away from Onyeka Okongwu
Onyeka Okongwu seemed to be an ideal fit for the Golden State Warriors but recent reports suggest the team thinks otherwise.
For the first time in quite some years, the Golden State Warriors find themselves in the NBA Draft Lottery. Not only that, but they hold the best odds to win the top pick. If they win the lottery, Onyeka Okongwu will likely not be their first selection.
Okongwu's rise to the top of draft boards can unexpectedly. The lanky forward made a name for himself at USC by averaging 16.2 points, 8.6 rebounds and 2.7 blocks per game. He makes sense for the Dubs from a lineup standpoint as he fits in nicely as a lob threat and rim protector.
However, Connor Letourneau of the San Francisco Chronicle recently reported that the Dubs are unlikely to draft Okongwu with their first round pick. The team is higher on Marquese Chriss than many assumed, going as far as to say they would be comfortable with Chriss starting at center next season.
Chriss has done a great job of erasing his former performances and was shaping up to be a quality prospect towards the end of this season. At 22 years of age, Chriss has plenty of potential to keep growing as a player.
The Warriors aren't entirely convinced that a rookie could swoop in and steal the minutes that Chriss already worked his tail off to earn. For that reason, the Warriors aren't too interested in Okongwu or James Wiseman.
In fact, the Dubs may not be thrilled by the thought of any top prospect. Instead, the Dubs have expressed interest in trading down in the draft in an attempt to acquire more readily available competitors from other teams.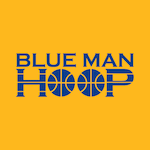 Want your voice heard? Join the Blue Man Hoop team!
Write for us!
Golden State has plenty of potential trade targets they could make a move for on draft night. One thing seems sure, they won't be using their pick on Okongwu.