Golden State Warriors: 3 Implications of next season being shortened
There is a high chance the NBA shortens next season in order to conclude the current one. This will affect the Golden State Warriors in multiple ways.
Everyone is talking about the NBA's proposed plan to bring basketball to Walt Disney World in an attempt to properly crown a champion for the current season. However, few are thinking of the potential fallout of pushing this campaign deep into the next one. In particular, the Golden State Warriors would face the most adversity.
It seems almost certain that COVID will continue to impact the league for the foreseeable future. As of now, the league appears to be looking at late July to early August for a potential return to play. In this case, next season could be postponed until January or February in order to slot adequate time for the NBA Draft and free agency.
Unless the league plans on making schedule changes for three straight years, the 2020-21 NBA season will have to be shortened to some extent to allow the next season to begin on time. Let's analyze how a short season will affect the Dubs.
NBA Draft impacts
The Warriors have all but secured the top odds to win the 2020 NBA Draft Lottery. With this comes a chance at earning the No. 1 overall pick and an opportunity to select from any of the top prospects.
However, a shortened season will put a massive cap on how effective a rookie can be in his first year. The learning curve will be unbelievably steep for whoever the Warriors draft as they have roughly three months to adapt to the NBA and prepare for the playoffs.
As a consequence, the Warriors might decide to trade their pick after all. Implementing a new prospect into an already jumbled roster could prove to be too difficult for a team looking to flip their record in one year.
Less time to prepare
The shortened season won't just affect rookies. The Warriors are going to be hardpressed to build chemistry and figure out a path to success with only a few months to play together and push for a title.
Klay Thompson missed the entire season with an ACL injury while Stephen Curry appeared in only five games before the league's hiatus. This means the Splash Brothers have little to no experience playing alongside Andrew Wiggins, Eric Paschall, Marquese Chriss and Jordan Poole.
This is a large area of concern due to the fact that each of those players will be pivotal members of the team. There are no short cuts to a championship but the Dubs will have to fast-track their development if they want to win.
An opportunity for rest
Perhaps the only benefit of this outcome for the Warriors is an extended rest period for a group of stars that is worn down.
Curry, Thompson and Draymond Green have played in five consecutive NBA Finals. Going deep into June each season has caused massive stress for the big three and it was evident this season with each star falling with some form of injury.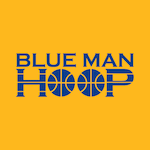 Want your voice heard? Join the Blue Man Hoop team!
Write for us!
This additional time off is going to be huge for Curry and Thompson who are still nurturing their injuries. While shaking off the rust will be a factor, it is certainly better than forcing the Splash Bros into risking further injury.