Golden State Warriors: Analyzing each x-factor player for next season
There are a number of variables that could sway next season for the Golden State Warriors. Which x-factor player will step up?
It's going to take a team effort for the Golden State Warriors to become great again. With Stephen Curry and Klay Thompson both coming off major injuries it is vital the rest of the supporting cast carries their own weight as to allow the Splash Brothers adequate time to recover.
Unfortunately, the Warriors aren't as loaded as they used to be. Their two-time Finals MVP, Kevin Durant, is gone. Other valuable role players such as Shaun Livingston, Andre Iguodala and Quinn Cook have dispersed as well.
Standing in their place is a number of unproven players that will need to step up this season. Let's look at each x-factor player and determine what we can expect to see from them.
Jordan Poole
The rookie was branded as the second coming of Nick Young for his flashy personality and streaky 3-point shooting ability. Both were on full display this season as Poole's first year in the league was a roller coaster.
His first few months had him in legit conversations for being the worst player in the entire league. But, after a brief stint in the G-League boosted his confidence, Poole returned to average 11.4 points on 41.4 percent shooting in the final 21 games of the season.
Poole has a chance to be a quality member of the bench next season. An occasional heat check from Poole will work wonders for a second unit that might struggle at times.
Eric Paschall
Paschall was the Warriors' biggest surprise this season. The late second-round pick put up consistent numbers and earned a spot on the Rising Stars team. His broad frame and athletic prowess made him an effective slasher and helped him rack up 14.0 points per game.
He has to improve on defense and continue to work on his 3-point shot but Paschall has the potential to fill in a much-needed role for the Dubs. He might be their best offensive weapon in the frontcourt and can act as a release valve for Curry and Klay Thompson.
Draymond Green
In years prior, Green was an anchor for the Warriors. The team relied on him for energy but now the aging forward is facing a decline in production. It will be crucial that Green reverses this process immediately.
Green is a rare breed. He is capable of doing just about everything on the court and this is exactly what the franchise will need from him next season. We can't expect Green to morph back into the Defensive Player of the Year he used to be but we can certainly see another All-Star season from Dray.
Andrew Wiggins
Expectations will be high for Wiggins. He is on a hefty contract and is acting as a replacement for Durant. However, the Warriors won't be looking for Wiggins to act as the new KD.
Rather, Wiggins should look to find a balance somewhere between the style of Durant and former Warrior Harrison Barnes. He needs to be reliable enough on offense to score when the opportunity presents itself but mostly act as a third option alongside the Splash Bros.
The most important thing for Wiggins will be proving he can play defense. He is an athletic marvel that has not yet taken full advantage of his defensive potential. His lanky build could help the Warriors' immensely on this end of the floor if Wiggins can make a leap as a defender.
Marquese Chriss
The Warriors have stated that they are fully prepared to enter the season with Chriss as their starting center. This is a big change of scenery for a prospect who was just an outcast only one year ago. Chriss has bounced from franchise to franchise during his short career but has found a home in Golden State.
He has thrived in the Dubs free-flowing system. Allowing Chriss the freedom to run the floor and clean up the glass has brought out the best in him. He is averaging career highs in points, rebounds, assists and blocks.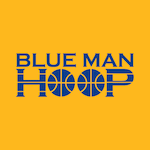 Want your voice heard? Join the Blue Man Hoop team!
Write for us!
Chriss can solidify his role as a starter if he continues to improve next season. He was playing at a high rate before the season ended and will need to return to this level of play if he wants to stay with the team.