Golden State Warriors: Stephen Curry is 'unbelievably hungry' for next season
Stephen Curry and the Golden State Warriors are eagerly anticipating an opportunity to redeem themselves next season.
The Golden State Warriors are down, but they are unequivocally not out. Stephen Curry has been waiting a long time to enact his revenge on the rest of the league and next season offers a perfect opportunity to do so.
On 'The Life Podcast' with Anthony Morrow and Justin Jack, Curry spoke about his hopes for next season.
"When we get back, one we're gonna be happy just playing basketball. But two, unbelievably hungry,"
Curry also revealed that he never planned on the 2019-20 season being such a disappointment. To him, his goal was always to reach the playoffs and surprise everyone with a potential cinderella run to another title.
"…let's just get to the playoffs and obviously when we get there let's just get Klay back and we know what type of team we're gonna be, and we're gonna be a hard out and we can surprise a lot of people."
The Warriors will be a very different team than they were the last time they won a championship. And Curry knows that. However, he is also confident in his star teammates that helped him create this dynasty in the first place.
"If you look at myself, Draymond, Klay — we were there at the beginning of this run and I get to kind of be the elder statesman to recreate it."
Curry is the oldest member of the Warriors roster. This, along with his incredible talents, makes him the natural leader. It will fall on Curry's shoulders to bring the franchise back to greatness.
We already know that this big three is more than capable of achieving phenomenal things. But, with a roster filled with new faces and inexperienced prospects, it will take a truly historic performance to bring them back to the NBA Finals.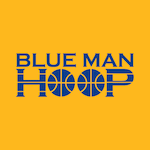 Want your voice heard? Join the Blue Man Hoop team!
Write for us!
The next chapter of Curry's career is shaping up to be an underdog story. This is familiar territory for the skinny guard from Davidson who was never projected to be the three-time champion he is today. Be on the lookout for Curry and the Warriors next season.