Warriors: LaMelo Ball responds to his dad's NBA Draft comments
LaMelo Ball is a top prospect in the 2020 NBA Draft. On Twitter, he replied to his dad's comments regarding his 'bad' fit with the Golden State Warriors.
Following a season full of bad luck, the Golden State Warriors are hoping to strike gold and win the 2020 NBA Draft Lottery. With this would come the opportunity to select LaMelo Ball first overall. Although, his father, LaVar, seems to be against this potential pairing.
LaVar has been notorious for publically speaking out and making decisions for his sons. We can remember all of the pre-draft hype for Lonzo. But, LaVar has once again taken to the media to tell us that LaMelo doesn't fit with the Warriors.
"They got Klay and the other guys, and now you want to put Melo in that mix to say you got to follow these guys. Melo ain't no follower. He don't need to do what they do, let them do they thing."

Via the Say Less with Kaz Podcast
LaMelo was quick to take to Twitter, where he quoted the report with the simple words "Yo chill." The tweet was soon deleted but his statement stands. Melo doesn't want to lose any opportunities and playing alongside Stephen Curry and Klay Thompson could be a once in a lifetime learning experience.
Melo isn't going to find a more quality backcourt to learn from than the Splash Brothers. There is nothing wrong with being a 'follower' in the sense of being mentored by two of the greatest guards to ever play the game.
Now, there are some reasonable concerns for both Ball and the Warriors in this scenario. The Dubs don't have time to wait for a young prospect to develop and Ball certainly doesn't want to remain in the shadows for his first few seasons.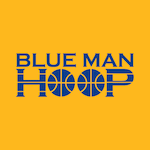 Want your voice heard? Join the Blue Man Hoop team!
Write for us!
This puts a potential wedge in this pairing. It seems much more likely that the Warriors will trade their pick or draft a more developed player. However, it's a great sign that Melo is wasting no time separating himself from his father and standing out as his own man.