Golden State Warriors: Future 2021 NBA Draft pick could be valuable
If the Minnesota Timberwolves underperform next season, the Golden State Warriors could luck out with a lottery pick in the 2021 NBA Draft.
The Golden State Warriors always knew they would jump on an opportunity to flip D'Angelo Russell for a more suitable prospect. This chance presented itself when the Warriors traded Russell to Minnesota for Andrew Wiggins and two future 2021 NBA Draft picks.
The Dubs acquired both the Timberwolves' first and second round picks for next season. Although the Wolves have two rising stars in Russell and Karl-Anthony Towns, it's possible their first round pick winds up in the lottery again.
Minnesota's young core has a history of underwhelming. Wiggins was one of the main components of this in the past, never really stepping up and making the developments necessary for the franchise to take the next jump towards becoming a competitive team.
Towns has been an elite center for quite some time but even he isn't capable of carrying the franchise into the playoffs single-handedly. He and Russell have the potential to create an interesting inside-out dynamic but their supporting cast could be their downfall.
Aside from Towns and Russell, the Wolves are desperately lacking in talent. Malik Beasley has emerged as a quality two-way player but the rest of the roster is too poor for the Wolves to be a reliable pick to make the postseason next year.
This is why the Warriors might be able to stash away another lottery pick into their collection. In a Western Conference that is loaded with upcoming teams like the New Orleans Pelicans, Phoenix Suns, Memphis Grizzlies and Sacramento Kings, it's hard to see the Wolves finishing much better than they did this season.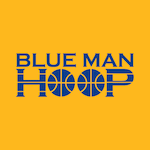 Want your voice heard? Join the Blue Man Hoop team!
Write for us!
Only one team in the West had a worse record than the Wolves and that was the Warriors. It's safe to say the Dubs will be significantly better next season. But, will the Wolves? Probably not. There is a good chance their 2021 first round pick ends up being incredibly valuable.