Golden State Warriors: Benefits of playing in second bubble
There are actually some benefits to the Golden State Warriors playing in a second bubble to finish the 2019-20 NBA season this summer.
Just as we thought the Golden State Warriors were looking ahead to next season in December, a report came out that the eight teams not invited to Orlando are pushing for their own bubble to finish the 2019-20 season.
This is a surprise to most who assumed the Dubs have nothing to gain from playing out the remainder of their schedule. With the worst record in the league, why would the Warriors want to return?
Well, there is a bit of development the team could accomplish by playing a few more games. The young core of Eric Paschall, Andrew Wiggins, Jordan Poole and Marquese Chriss would benefit from playing alongside each other again, even if it's only for a couple of games.
The same goes for Stephen Curry. While the two-time MVP isn't in need of any more development, he could certainly use some additional time to gel with his new teammates. After all, Curry has played in fewer than 10 games with each member of the young core.
Next season is going to be delayed and likely shortened. Consequently, the Dubs will have less time to build chemistry together before entering the playoffs. This opportunity to play together before December could be pivotal.
Moreover, the Warriors would be able to cut some of their financial losses from canceling the season altogether. Forbes estimated that missing the rest of the season would cost the organization roughly $25 million dollars. Playing some games on national television could help ease the pain.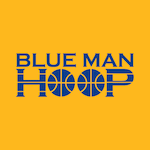 Want your voice heard? Join the Blue Man Hoop team!
Write for us!
This seems like plenty of reason to resume their season. However, the risks still far outweigh the reward. Coronavirus has been spiking across the country. Putting these eight teams at further risk of catching or spreading the virus seems irresponsible. In the end, finishing this season isn't worth it for the Dubs.