Golden State Warriors: Developing young core must be focal point
The Golden State Warriors have a lot on their plate. Developing the young core must be one of their main focal points next season.
The Golden State Warriors' to-do list for next season is humongous. By this time next year, the Dubs want to be looking back at yet another title run. In order to accomplish this, they must first build a team capable of winning a championship.
We already know what Stephen Curry, Klay Thompson and Draymond Green are capable of. Before Kevin Durant even though of joining the roster, this trio led the franchise to its first championship in over 40 years. The addition of Durant put them over the top for two more titles.
But, the Dubs are back to where they started now. Only this time, they lack the veteran savvy supporting cast that made them so dangerous. Andre Iguodala and Shaun Livingston are gone. This leaves a lineup full of young players to step up and rise to the occasion.
At the top of the list is Eric Paschall. A surprising prospect who will likely reach an All-Rookie team, Paschall was the best thing to happen to the Dubs last season. He averaged 14.0 points and 4.6 rebounds and looked promising as a scorer.
The Warriors should focus much of their attention on rounding out Paschall's offensive game. Adding a jump shot to his already strong slashing skill set would make him versatile enough to play a big role with the team next season.
As for the rest of the core, Jordan Poole and Marquese Chriss could be vital as well. Chriss is already making strides as a rim runner and Poole has the potential to be the spark plug they need off of the bench.
Above all else, the Warriors might be bringing in a top-five pick this year. In this case, the team would have no other option but to focus on setting their rookie up for a strong first season.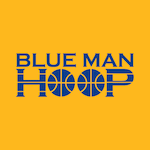 Want your voice heard? Join the Blue Man Hoop team!
Write for us!
The Warriors have big goals for next season but none of it will be possible if they neglect to develop their young core.