Warriors Rumors: Could Ricky Rubio be a realistic offseason target?
The Golden State Warriors may make adding a backup point guard a priority. Could the Phoenix Suns' Ricky Rubio be that player?
There's no denying this season was tough for the Golden State Warriors. They went 15-50, and their 65 games will be all they play as the Dubs were one of the eight teams not invited to the Orlando bubble.
Although Klay Thompson and Stephen Curry will be healthy next season, the team will need more in order to return to Finals contention. The Dubs have a $17.2 million trade exception and a mid-level trade exception at their disposal. They'll also have a guaranteed top-five first-round pick.
The Warriors will have the ability to improve their roster.
According to The Athletic's Anthony Slater (subscription required), backup point guard will be a priority for the Warriors. There will be a plethora of options that include Jeff Teague and Michael Carter-Williams.
NBC Sports' John Schrock noted Ricky Rubio could be a potential target. The argument to bring a player like Rubio in is pretty compelling. However, there are a few reasons the team may look elsewhere as well.
"Rubio would be the best-case scenario for the Warriors at the backup point guard position. The guard could fill the veteran bench role that was vacated by the departures of Andre Iguodala and Shaun Livingston," Schrock wrote.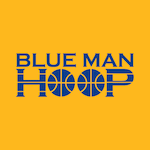 Want your voice heard? Join the Blue Man Hoop team!
Write for us!
Rubio averaged 13.1 points per game on 41% from the field. While his shot has always been inconsistent, Rubio's ability to distribute the ball at such a high level would thrive alongside Curry and Thompson, two of the best shooters ever.
Alongside Devin Booker, Rubio notched 8.9 assists per game, the second-most of his career.
That's the best part of what he could potentially bring to Golden State. His passing in an offense led by such shooting would open up lanes and opportunities this team may not have had without him.
Rubio has also improved his three-point shooting up to just over 35%, also the second-most of his career. If this team can run a small-ball lineup of Rubio, Curry, Thompson, Andrew Wiggins and Draymond Green, they'll be incredibly hard to defend.
Rubio is under contract for two seasons and owed $17 million next season. That means they'd use the Andre Iguodala-created exception on him. Is it worth it? That'll be a tough decision for Bob Myers and company to figure out.