Tyrese Halliburton or Obi Toppin would be the best pick for the Dubs
The Golden State Warriors will have plenty of options in the 2020 NBA draft, but few could be as enticing as either Tyrese Halliburton or Obi Toppin.
The Golden State Warriors are guaranteed to be drafting in the top five of the 2020 NBA draft, due to their season-ending prematurely thanks to the coronavirus pandemic. With that extra time, it has given head coach Steve Kerr and General Manager Bob Myers more time to scout prospects.
Although the Warriors have been widely linked with the likes of Anthony Edwards, James Wiseman, Deni Avdija and LaMelo Ball, although the latter's father recently claimed he would prefer his son to go to the Knicks. Instead, the Warriors could opt for a prospect few teams have at the top of their chart.
It wouldn't be shocking if the Warriors opted to draft a more seasoned prospect, as the Dubs are in win-now mode with the likes of Steph Curry, Klay Thompson and Draymond Green all approaching the end of their primes.
Therefore it wouldn't make sense to draft someone like Wiseman or Avdija, both of whom may take a year or two to develop. The Warriors will have a 14% chance to secure the number one pick, but they may opt to trade out of that position (should they land it) to secure further draft capital for future pursuit of a superstar or to target someone who may fall outside the top three.
Two prospects that have reportedly intrigued Golden State are Iowa State point guard Tyrese Halliburton and Dayton's reigning National Player of the Year Obi Toppin.
Halliburton is a player that immediately springs to mind, especially after San Francisco Chronicle's Connor Letourneau reported that the Dubs had the Iowa State product higher on their draft board then Ball. The 20-year-old averaged 15.2 points, 6.5 assists and 5.9 rebounds this past season. He shot 41.9 percent from 3-point range and made 82.2 percent of his free throws playing for Iowa State.
The point guard has a natural feel for the game, has a strong jump shot and is one of the more polished prospects in this year's class. It is easy to see where Halliburton would fit alongside the likes of Curry, Thompson, Wiggins and Green. It also isn't hard to believe that Halliburton could be the next version of Shaun Livingston, who retired after last season.
Most importantly Halliburton would fulfill a role that the Warriors have lacked this season: backup point guard. Steve Kerr struggled to find a backup throughout last season using Jordan Poole, Ky Bowman, Jacob Evans among others last season, Halliburton would be an upgrade on all three.
As for Toppin, his parents have already admitted that they hope their son gets selected by the Dubs in the draft. The former Dayton star averaged 20 points and 7.5 rebounds last season, and although he is a bit older than the majority of prospects in this class he is more likely to make an instant impact.
The power forward certainly has the range from deep and can throw down dunks with the best of them. However, would selecting Toppin be the right call? The Warriors already appear to have an abundance of depth at the power forward position with Draymond Green, Eric Paschall and Alen Smailgacic on the roster, Toppin isn't really a necessity,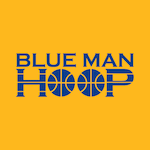 Want your voice heard? Join the Blue Man Hoop team!
Write for us!
Nonetheless, he'd be a strong pick in a weak draft, it just depends on what the Warriors choose to do.