James Wiseman has a high-ceiling with Golden State Warriors
The Golden State Warriors are looking at multiple NBA Draft prospects but James Wiseman might have the highest ceiling of any.
An argument can be made for the Golden State Warriors to consider at least five different 2020 NBA Draft prospects in the lottery. None of which would benefit more from playing with the franchise than James Wiseman.
Golden State would be a paradise to this rim running center. Wiseman has spent most of his career dominating smaller opponents and anchoring the paint. With the Warriors, his talents would be on full display as the team is in desperate need of a true 7-footer.
Wiseman stands at 7'1″ and has a standing reach of over 9-feet. He has broad shoulders and a muscular frame, giving him the size to battle with any current NBA center. Furthermore, he is an explosive athlete, nimble on his feet and even better in the air.
The Warriors haven't had a force like Wiseman in the paint since Andrew Bogut, but even he was nowhere near the athletic beast that Wiseman is. This new dynamic would create a ton of interesting actions for the Dubs.
Firstly, imagine the pick-and-rolls that he and Stephen Curry could run. Last season, Curry ranked in the 92nd percentile as the pick-and-roll ball-handler, generating 1.02 points per possession. It's easy to envision similar success with Wiseman setting the screens and rolling to the hoop. In college, Wiseman converted over 70 percent of his looks at the rim.
Not to mention, Wiseman is a great candidate to catch lobs from Draymond Green. Green is known for penetrating the lane and tossing lob passes to players on the weak side. This would bring out Wiseman's full potential as an athlete.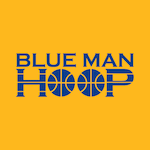 Want your voice heard? Join the Blue Man Hoop team!
Write for us!
Most of all, Wiseman would anchor the Warriors' defense. His talent cleaning the glass and deterring opponents from scoring in the paint makes him incredibly valuable. Wiseman has a high-ceiling in a system like the Dubs'.