Golden State Warriors NBA Draft profile: Analyzing Tyrese Maxey
Tyrese Maxey could be on the Golden State Warriors' NBA Draft radar. Let's take a look at the young guard's draft profile.
We are less than a month away from the 2020 NBA Draft Lottery, where the Golden State Warriors will discover where their upcoming pick lands. If they fall deeper into the order, Tyrese Maxey could be one of their top choices.
Maxey had a strong freshman season with Kentucky, averaging 14.0 points, 4.3 rebounds and 3.2 assists per game. A quick-footed guard, Maxey can offer some consistent bench scoring to the Dubs.
The Warriors don't have a reliable option for Stephen Curry's backup. Ky Bowman had an encouraging underdog story but he isn't exactly the type of player the franchise wants to rely on come playoff time. Maxey may not be either, as 19-year-old aren't particularly prepared for deep postseason runs.
Regardless, Maxey is one of the Dubs' best options in terms of point guards in the draft. Maxey plays within his role, taking and making smart shots all season long for Kentucky. He shot above 40 percent from the field and although he was sub 30 percent from the 3-point line, he has all the makings of a solid deep shooter. His free throw clip is the best indicator of this, connecting on over 80 percent of his attempts.
Maxey isn't a natural playmaker but he does have the potential to be an efficient shot creator. His handle is about average but his long wingspan allows him to wrap around defenders and finish around the rim.
Above all, he has shown that he can hold his own on defense. Maxey has a great motor and will work relentlessly to have a positive impact on this side of the floor for Golden State.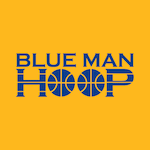 Want your voice heard? Join the Blue Man Hoop team!
Write for us!
The Warriors aren't sure exactly how they will go about buffing their lineup before the season begins but drafting Maxey could be a surefire way to add support to their second unit. There are other options available, such as LaMelo Ball, Anthony Edwards and Killian Hayes. However, Maxey is someone they will keep their eyes on, especially if the draft lottery isn't too kind to them.