Golden State Warriors: Eric Paschall deserves First-Team All-Rookie
Eric Paschall had a stellar rookie season for the Golden State Warriors and deserves a spot on the All-Rookie first team.
Nobody could have projected Eric Paschall to have the rookie season he had. Not even Paschall expected to play such a big role for the Golden State Warriors this year. But, as injuries piled up and the roster was left depleted, the stage was set perfectly for Paschall to have an All-Rookie caliber campaign.
In 60 games for the Dubs, Paschall averaged 14.0 points, 4.6 rebounds and 2.1 assists per game. He shot nearly 50 percent from the field, excelling as a downhill attacker and finisher around the rim. His 3-point shot was inconsistent, falling at a below 30 percent rate, but the potential for him to be a moderate catch-and-shoot threat is there.
Paschall became the first member of the Warriors to reach the Rising Stars Game since Harrison Barnes. The 41st pick of the 2019 NBA Draft exceeded expectations in every way and became an effective small-ball option for the Dubs frontcourt.
As of now, Paschall is on the border of reaching the NBA's All-Rookie First-Team. Most analysts agree that Ja Morant, Zion Williamson, Brandon Clarke and Kendrick Nunn have locked up a position on the first team. Paschall mostly finds himself battling with Tyler Herro, Mattise Thybulle and P.J. Washington for that last spot.
Of that fringe group, Paschall ranks first in points, second in rebounds and second in assists. His biggest downfall is the Warriors' team record of 15-50, perhaps the only thing standing in his way of reaching the All-Rookie First-Team.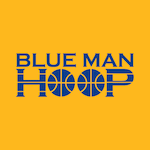 Want your voice heard? Join the Blue Man Hoop team!
Write for us!
While I certainly believe Paschall has been one of the five best rookies in the NBA this season, I think Paschall should be proud of what he accomplished. He will definitely be selected for one of the All-Rookie teams. It should only motivate him if he falls to Second-Team.