Golden State Warriors: West praises Eric Paschall and Andrew Wiggins
David West has faith that Eric Paschall and Andrew Wiggins will manage to have a positive impact on the Golden State Warriors next season.
David West spent the final two years of his long NBA career winning championships with the Golden State Warriors. The former Dub was recently interviewed by Sam Amick of The Athletic, giving high praise to Eric Paschall and Andrew Wiggins.
West spoke partially about social justice issues, highlighting a program he has helped launch with Steve Kerr titled "Athletes Voices". Their goal is to help athletes maximize their platform to help spark change in our country.
When asked about the current state of the Warriors, West showed no pessimism. He believes the addition of Wiggins will be great for the team, stating that he should feel more comfortable in Golden State and fill his role nicely. West also noted that Wiggins is still young, with plenty of time to absorb knowledge.
West went on to talk about the late second-round pick, Paschall. He was impressed with Paschall's performance this year, saying this:
"I really like (Eric) Paschall. I think he's got the grittiness and the edge. He's edgy enough to really eek out a spot for himself in the league."
Paschall was one of the most surprising rookies in the NBA last year and will have a great opportunity to play big minutes for the Dubs next season. His versatility on offense can help him be a consistent contributor.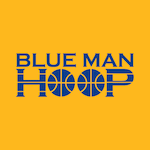 Want your voice heard? Join the Blue Man Hoop team!
Write for us!
Overall, West thinks the Warriors will be back at the top of the standings in no time. He says he wouldn't be surprised if the Dubs 'bum-rush' the league once again, similar to the way they took the basketball world by storm in 2015. A healthy roster with Stephen Curry, Klay Thompson and Draymond Green is definitely one to be afraid of next season.