Former Golden State Warriors, Cavs rivalry represented in NBA restart
It's been some time since the Golden State Warriors and Cavs battled in the NBA Finals but former players are well represented in the bubble.
The Golden State Warriors and Cleveland Cavaliers are in very different positions than they were last time the two clashed in the NBA Finals. Two past titans of the league, the Dubs and Cavs went head-to-head for four consecutive seasons. In the aftermath of LeBron James and Kevin Durant leaving their respective teams, each squad has fallen into the abyss.
Thankfully, the Dubs are in a much better place than the Cavs. Sure, Golden State finished with a league-worst 15-50 record but they still have a star core of Stephen Curry, Klay Thompson and Draymond Green ready to go for next season. Meanwhile, Cleveland is a few years away from even sniffing a playoff berth.
Nonetheless, neither squad will be competing in the NBA's restart in Orlando. However, fans will be able to root for certain players as former members of each team have been scattered across title-contending teams.
Let's start with the obvious, although Cleveland fans are heartbroken that James left them once again, the majority are cheering for King James to capture his fourth ring. It helps that former Cavs such as J.R. Smith, Danny Green and Dion Waiters will compete alongside him.
Quinn Cook is also on the Lakers roster, a former member of both the Cavs and Warriors. Cook served as a backup point guard for two years in Golden State. Lastly, JaVale McGee has found his way to LA after winning back-to-back championships with the Dubs.
The list of names doesn't stop there. Glenn Robinson III and Alec Burks will play potentially big roles in Philadelphia as the 76ers look to surprise everyone in the Eastern Conference. Of course, we can't forget 2015 Finals MVP, Andre Iguodala, who will suit up for the underdog Miami Heat.
Then, there is Chris Boucher. The Toronto Raptors newest young star, Boucher has become a versatile threat due to his 7'4″ wingspan and sound fundamentals. For those that don't know, Boucher played a grand total of one minute with the Dubs in 2018.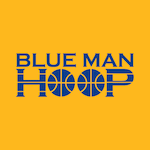 Want your voice heard? Join the Blue Man Hoop team!
Write for us!
While the Dubs won't have much to gain from the NBA's restart, they can at least root for their former players and wish them the best.