Golden State Warriors should target a big-man in 2020 NBA Draft
The Golden State Warriors have numerous options for the 2020 NBA Draft but their best bet might be targetting a big-man.
The Golden State Warriors sure have put themselves in an interesting position this summer. It's rare for a team with serious title aspirations to also obtain a top-five pick in the upcoming NBA Draft, but, here we are.
With this pick comes the luxury of multiple options. The Dubs already have enough talent on the roster to compete, meaning they don't have to go all-in on a potentially risky prospect like LaMelo Ball. Instead, they can draft a player that fits best with the roster, or, trade the pick entirely.
However, their best option might be to target a big-man. The Dubs currently only have one player over 7-feet on their roster, and that is the slow-footed Dragan Bender who plays nothing like a true center. Patching this hole in their rotation would be vital in future matchups with the Los Angeles Lakers or Milwaukee Bucks.
An easy way for them to fix this is by looking at James Wiseman. While he has his limitations, Wiseman is a gigantic center with elite shot-blocking potential. He would anchor their efforts in the paint and offer consistent finishing around the rim.
A little shorter, but just as effective, Onyeka Okongwu has also put himself on the Dubs' roster. Okongwu averaged 16.2 points, 8.6 rebounds and 2.7 blocks per game last season. His presence as a two-way athlete would offer a nice dynamic to the Warriors lineups.
Or, the Warriors could go in another direction and attempt to overload teams with an offensive onslaught. This makes Obi Toppin a prime candidate for them, as he was one of the best stretch-bigs in the NCAA last year. Toppin can spread the floor and act as a release valve for the Splash Brothers.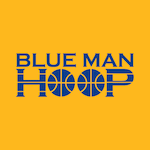 Want your voice heard? Join the Blue Man Hoop team!
Write for us!
The Warriors have a 14 percent chance of landing the top pick. On the other hand, there is almost a 50 percent chance they fall to the fifth pick. Wherever they land, the Dubs should consider taking one of these big men.