Rockets have mastered Golden State Warriors' small-ball style
The Houston Rockets have pushed the Golden State Warriors' small-ball playstyle to a whole new level, giving us a wild ride in the NBA's Orlando Bubble.
The Golden State Warriors weren't the first team to experiment with a smaller lineup, but they did perfect it. At least, that was until the Houston Rockets took it one step further, pushing the small-ball lineup to its absolute peak this season.
The Rockets have been trying to replicate the Dubs' system of success for years. Except, it proved impossible to duplicate the prowess of Stephen Curry, Klay Thompson and Draymond Green. As a result, the Rockets failed repeatedly, often defeated by the very franchise they tried to copy.
This year, the Rockets understood that the window for a championship is closing. Rather than try the same old formula, Houston decided to do something more drastic – trading Clint Capela and forming a rotation of no big-men. Their goal is simple, become such an overwhelming 3-point shooting team that opposing teams have no option other than to match their accuracy.
Houston's strategy
Houston's mad scientist experiment was on full display against the top-seeded Milwaukee Bucks. The Bucks arguably should be the number one team to dominate the Rockets' smaller lineup, with a freak like Giannis Antetokounmpo and a strong post player in Brook Lopez.
Instead, the Rockets stole the game from Milwaukee – winning a 120-116 thriller. Despite 36 points from Giannis and repeated post-ups from Lopez, the Rockets overcame an early deficit by attempting (and making) nearly double the number of 3-pointers as the Bucks.
In key moments of the game, Lopez was played straight off of the floor as he was unable to properly defend the 3-point line. This punished the Bucks and made life more difficult for Giannis – who was surprisingly clamped by James Harden down the stretch of the 4th quarter.
The Rockets are playing a numbers game. Gambling on the weight of a 3-pointer could be their downfall- as it was in the 2018 Western Conference Finals when they missed 27 consecutive 3-balls to drop Game 7 to the Warriors.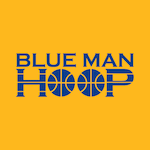 Want your voice heard? Join the Blue Man Hoop team!
Write for us!
This time, the Rockets are doubling down and going all-in on the analytics. Their lineup is specifically designed for this style of ball and is a wildly interesting tactic. It's the Warriors' strategy on steroids and I can't wait to see how it plays out in the postseason.