How Phoenix's success in Orlando affects Golden State Warriors
The Golden State Warriors should be rooting for the Phoenix Suns to wind up in the NBA Draft Lottery – not the NBA Playoffs.
The Western Conference has long been the superior side of the NBA. For years, the competition in the West has superseded that of the East. For the Golden State Warriors, a storm could be brewing next season that would make their potential title run even more difficult.
If you predicted the Phoenix Suns to enter the Orlando bubble and rattle off seven consecutive wins – you might want to buy a lottery ticket sometime soon. This is the Suns' highest win streak since 2010 – a feat that has put them deep into the playoff race with one game remaining on their schedule.
The postseason picture in Orlando is getting about as complicated as it could possibly be. The Portland Trail Blazers have secured a spot in the play-in tournament but the eight seed is still up for grabs between the Suns, Memphis Grizzlies and San Antonio Spurs. Keith Smith explained each scenario in a simple manner:
In order to reach their first playoff berth since 2010, the Suns will need to beat the Dallas Mavericks on Thursday and hope the Spurs lose to the Jazz OR the Grizzlies lose to the Bucks. It should be noted that Giannis Antetokounmpo will likely not play in the final game of the season after headbutting Mo Wagner – meaning the Suns will have to bank their hopes on the Jazz beating San Antonio.
If the Suns do sneak into the play-in tournament and succeed in beating the Blazers twice – the Warriors will have to face a tough reality. Competitive teams like the Grizzlies, Blazers and New Orleans Pelicans entering the NBA Draft Lottery is bad news for the Dubs who might be facing a rebuild sooner rather than later.
The likelihood of one of those teams finding a key rotational player is heightened as they all enter a lottery with flattened odds. They might not land a top 10 pick but they will have a chance to add quality talent to their already strong young cores. Specifically, the Warriors will have to worry about the Blazers potentially rounding out their lineup with another star.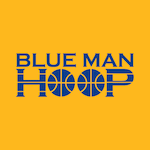 Want your voice heard? Join the Blue Man Hoop team!
Write for us!
The Warriors should still feel confident in their roster but it would help their confidence if the Suns failed to reach the playoffs and keep and least one of the more competitive teams out of the lottery.